The Leader in Enriching Cultural Experiences since 1958
You're receiving this message because your web browser
is no longer supported
We recommend upgrading your browser—simply click the button below and follow the instructions that will appear. Updating will allow you to accept Terms and Conditions, make online payments, read our itineraries, and view Dates and Prices.
To get the best experience on our website, please consider using:
Safari (for Mac or iPad Devices)
Update Browser

spain
Compare Trips
Find the Adventure That's Right for You
Our Activity Level rating system ranks adventures on a scale of 1 to 5 to help you determine if a trip is right for you. See the descriptions below for more information about the physical requirements associated with each rating.
Travelers should be able to climb 25 stairs consecutively, plus walk at least 1-2 miles over some uneven surfaces without difficulty. Walks typically last at least 1-2 hours at a time. Altitude can range from zero to 5,000 feet.
Activity Level 2:
Moderately Easy
Travelers should be able to climb 40 stairs consecutively, plus walk at least 2-3 miles over some uneven surfaces without difficulty. Walks typically last for at least 2-3 hours at a time. Altitude can range from zero to 5,000 feet.
Activity Level 3:
Moderate
Travelers should be able to climb 60 stairs consecutively, plus walk at least 3 miles over some steep slopes and loose or uneven surfaces without difficulty. Walks typically last for 3 or more hours at a time. Altitude can range from 5,000 to 7,000 feet.
Activity Level 4:
Moderately Strenuous
Travelers should be able to climb 80 stairs consecutively, plus walk at least 4 miles over some steep slopes and loose or uneven surfaces without difficulty. Walks typically last for 4 or more hours at a time. Altitude can range from 7,000 to 9,000 feet.
Activity Level 5:
Strenuous
Travelers should be able to climb 100 or more stairs consecutively, plus walk at least 8 miles over some steep slopes and loose or uneven surfaces without difficulty. Walks typically last for 4 or more hours at a time. Altitude can range from 10,000 feet or more.
Hide Acivity Level
PRICE
including international airfare
HIGHLIGHTS & ACTIVITIES IN SPAIN
*This information is not available for our trip extensions. You must reserve the main trip to participate on this extension.
**This information is not currently available for this trip. Please check back soon.
Recommended Viewing
Watch this video showcasing what makes this country so unforgettable
Spain & Portugal Adventure
Submitted by Shelia Knox, 19-time traveler from Modesto, California
Watch as traveler Sheila K. from Modesto, California visits the famously beautiful Parc Güell on her pre-trip extension to Barcelona, witnesses the Royal Palace of Madrid, and explores the National Coach Museum in Lisbon.
19:28
Recommended Videos
Watch your fellow travelers favorite films & videos
Barcelona's Best
In Barcelona, there's always something new to find, from little ice cream shops to trendy gin bars.
Going Local: Madrid
See the real Madrid, from its unique street art, to its unforgettable sunsets, and lively piano bars.
My City: Barcelona
Experience Barcelona through the eyes of one of its locals—encountering skateboarders and artists alike.
Taste of the Andalucia
Feel the pulse of daily life in Seville as locals share helpful tips, from the ideal Spanish breakfast to ordering tapas.
Spain: Month-by-Month
There are pros and cons to visiting a destination during any time of the year. Find out what you can expect during your ideal travel time, from weather and climate, to holidays, festivals, and more.
Spain in December-February
Though temperatures can vary across the country, winter in Spain is generally much milder than in most other European destinations. For example: In Madrid, Spain's geographical heart, highs around 50?F and lows of 38?F are typical. In fact, many travelers prefer to visit in December through February precisely to avoid Spain's famous sizzling summers. While some shops, restaurants, and minor sites may close early (or not open at all) at this time of year, larger cities keep the same pace—and operating hours—no matter the season.
Holidays & Events
December 6: Constitution Day; marks the date in 1978 that Spain ratified its constitution, officially ending its 40-year period of dictatorship.
December 8: Inmaculada; known in English as the Feast of the Immaculate Conception, this religious holiday honors the Virgin Mary with Mass, parades, and fireworks.
December 25: Christmas
February: Carnival; numerous festivals are celebrated throughout the period before Lent.
Must See
Spain's Christmas traditions are a varied as the country itself: Each city has its own way of celebrating the season. In Valencia, for example, a seasonal circus act runs from Christmas Eve through January 6. A few days before Christmas, Santo Tomás Fair draws artisans and locals alike to Bilbao, and those who stick around are treated to a city-wide parade. And in Malaga, on the temperate Costa del Sol, revelers take to the streets for the Verdiales Music Festival, where flamenco takes center stage and turrón (almond nougat) is plentiful.
Watch this film to discover more about Spain
Smart Travels with Rudy Maxa: Madrid
Join Emmy award-winning travel expert Rudy Maxa in the extravagant city of Madrid, "the next thing to heaven."
Spain in March-May
Warmer spring-like temperatures in southern Spain make March to May a great time to enjoy the outdoors. Even lows of 55 degrees are mild enough to allow one to enjoy the stunning golden glow of Malaga sunsets over the Mediterranean. Visiting Valencia and Madrid is exceedingly comfortable, especially in April—and as it is the off-season for tourism, your travel dollars will go farther.
Holidays & Events
Mid- to late March: The Fiesta de la Magdalena in Castellón celebrates the city's relocation in 1251 to its current locale.
March 3: The Feste de Sant Medir in Barcelona features thousands of tons of candy thrown into spectating crowds from a frenetic parade.
March 15 to March 19: The Fallas Festival in Valencia is one for the books. Various communities in the city come together to produce elaborate floats, often depicting political and comedic themes. As the energetic parades, accompanied by people in elaborate cultural dress, come to a close, many of the floats are set on fire. At this point, the city is filled with people drinking, dancing, and playing music.
Late March: For the price of 10 Euros, sample the fare of hundreds of beer brewers who have come together for two days with brews from around the continent.
Mid- to late April: The Seville Fair; a 6-day, city-wide festival which features parades of elaborate carriages and colorfully-costumed revelers during the day, and eating, drinking, and dancing all night.
Must See
Easter Week, or Semana Santa, is a massive country-wide celebration in Spain. In Malaga, haunting processions of men in pointed white and black masks proceed down the cobble-stone streets with torches. Often also carrying ornate floats depicting Jesus Christ, thousands of clergy-men and laymen alike carry the floats silently, often to the tune of Chopin's "Funeral March".
Watch this film to discover more about Spain
Smart Travels with Rudy Maxa: Madrid
Join Emmy award-winning travel expert Rudy Maxa in the extravagant city of Madrid, "the next thing to heaven."
Spain in June-August
From the balmy coast to the sun-baked interior, the whole of Spain in summer is quite the hot-spot—both literally and figuratively. Cities such as Seville, Cordoba, and Madrid can get extremely warm in summer and one-hundred degree days are not out of the question. These high temperatures do keep the crowds away, so it's a great time to explore the country's iconic sights. However, you should plan for quiet afternoons; the Spanish tradition of taking a siesta—a midday rest or nap to escape the heat—means that many restaurants, shops, and even banks will be closed for a few hours.
If you don't fancy a nap, you could spend your siesta at one of Spain's famously beautiful beaches. With 5,000 miles of coastline and 300 days of sunshine a year, every summer day is a good day for relaxing by the sea.
Holidays & Events
June 23: St. John's Eve; marks the beginning of summer, and is celebrated at the beach with bonfires and fireworks. Many revelers will leap over these fires at midnight, believing it will bring them good luck.
July 25: Feast of Saint James the Apostle; many Christians believe that the remains of the saint are buried in Galicia's Santiago de Compostela.
Aug 15: Assumption of Mary; a Catholic holiday marking the Mother of Christ ascending into Heaven.
Last Wednesday of August: La Tomatina; a wild tomato fight that takes place in the town of Buñol at the end of a week of parades, parties, and street markets.
Must See
While Spain is the hottest during the summer months, this also means popular places like Granada are free of its regular crowds. The Sierra Nevada is especially gorgeous in the abundant sunshine. Along the coast, visitors can catch a sea breeze while admiring iconic sights such as the ancient Roman lighthouse in A Coruna.
If you're looking for festivals and fairs, August is the best time to find them in Spain. The August Fair in Malaga boasts an entire week full of activities and events, day and night. During the feria de dia (fair during the day), you can stroll bustling street markets and enjoy traditional music and flamenco dances. The feria de noche (fair during the night) is a lively party, offering food stalls and dance tents.
In Barcelona, the magical Fiestas de Gracia is celebrated in mid-August. The streets are alive with color, lights, and extravagant decorations as each neighborhood vies for the best decorated prize. Also competing for your attention are street acrobats, outdoor concerts, and fireworks displays at night.
Watch this film to discover more about Germany
Smart Travels with Rudy Maxa: Madrid
Join Emmy award-winning travel expert Rudy Maxa in the extravagant city of Madrid, "the next thing to heaven."
Spain in September-November
In fall, the scorching heat of summer begins to cool, making it an ideal time to visit cities like Madrid, Seville, and Cordoba. The southern coast is still bathed in sunshine and warmth, so you can enjoy Spain's beautiful beaches—without the summer crowds. In the north, the weather will tend towards cooler and rainy, so be sure bring along an umbrella as well as a light jacket.
Holidays & Events
September 11: Catalonia National Day; commemorates the end of the siege of Barcelona in 1714.
Late September: Feria de San Miguel; celebrated in Sevilla with traditional bullfights.
October 12: Spanish National Day; commemorates Christopher Columbus first arriving in the Americas in 1492.
Early to mid-October: Fiestas del Pilar; an annual festival celebrated in the city of Zaragoza in honor of the patron saint of the city, the Virgen del Pilar.
November 1: All Saints' Day
Must See
September in Spain is over-flowing with festivals—from the Fiesta de la Virgen de Guadalupe and the Feria de Pedro Romero in Ronda, to the grape harvests in La Rioja. The biggest harvest celebration is the San Mateo fiestas in Logroño which takes place over the last two weeks of September. During this time, expect lively street celebrations, traditional grape-crushing demonstrations, and bullfights. Meanwhile, in Barcelona, the city comes alive during the Festa La Mercè—a festival chock-full of street entertainment like castellers (acrobats), parades, and correfocs (fire runs).
Inland, Spanish cuisine is the main event. The hearty fare of Castille, including Segovia's suckling pig, savory roast lamb, and Burgos's rich morcilla (blood sausage), is the perfect complement for autumn's cooling temperatures.
Watch this film to discover more about Spain
Smart Travels with Rudy Maxa: Madrid
Join Emmy award-winning travel expert Rudy Maxa in the extravagant city of Madrid, "the next thing to heaven."
Average Monthly Temperatures
Spain Interactive Map
Click on map markers
below to view information about top Spain experiences
Click here to zoom in and out of this map
Madrid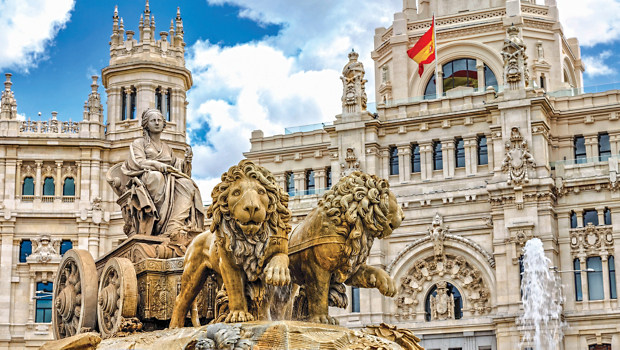 Discover Madrid—the sun-drenched capital of Spain—and you'll find yourself swept up in its pulse. A sprawling metropolis of more than 3 million people, Madrid has the endless options of a big city mingled with the laid-back attitude that permeates the fabric of the country as a whole.
Traditional tapas bars, temples dedicated to fine gastronomy, and dazzling night clubs are de rigueur—but there is a stately elegance and depth of artistic culture to be found here as well. Madrid is well-known for its fine museums such as the Prado, home to one of the best classical art collections in the world. Outside the museum walls, the buildings themselves are a tapestry of beautiful architecture. Stroll through the Plaza de España, the city's most prominent square, and you'll gaze up at the two tallest buildings in Madrid: the Torre de Madrid and the Edificio España. Elsewhere, dramatic fountains and sculptures dedicated to Spanish icons like Cervantes, Don Quixote, and Sancho Panza grab your attention.
Then there are the palaces—most notably, the Palacio Real (Royal Palace), one of the largest palaces in Europe. The official residence of Spain's royal family, this lavish palace is one of the most beautiful buildings in Madrid not just due to its design, but also to its location—it is perched, fairy tale-like, on a bluff overlooking the lush river valley.
From its nightlife and food to its art and architecture—Madrid is a city that strives to excite its visitors and residents alike in every possible way.
Experience Madrid with us on:
Barcelona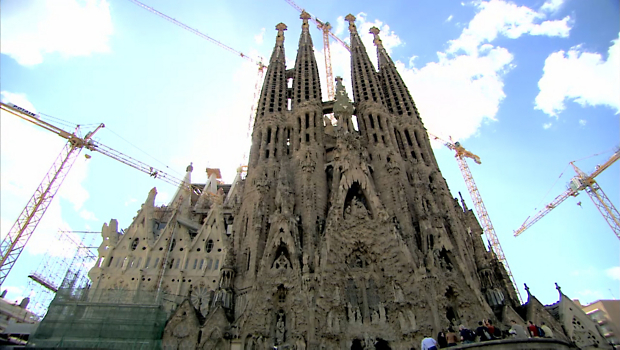 In the heart of Catalan country, whimsical Barcelona marches to the beat of its own drum. This sparkling seaside city has long inspired artists with its gorgeous light and open-minded approach to offbeat art; Dalí, Picasso, and Miró have all called Barcelona home.
Las Ramblas—the main promenade and the place to see and be seen—embodies the city's spirit: By day a laidback boulevard lined with shops and tempting spots to try the famed paella, Las Ramblas transforms at night into a hub of festive revelry. Spaniards are known for celebrating the good things in life, but in Barcelona, la fiesta is more than a celebration—it's a way of life.
In no other city can the stamp of modernism be felt as strongly: Barcelona's architecture is a monument to the creative genius of Antoni Gaudí, whose fantastical creations are dotted throughout the city. Visit the fairytale-like Park Güell, flanked by its Hansel-and Gretel gatehouses and reptilian mosaics, or take a stroll to Casa Batlló, a dreamy residential building in Barcelona's center that seems to be made of undulating waves. But for the city's star attraction, and Gaudí's crowning achievement, head to La Sagrada Família, a towering sand castle of a cathedral that has been under construction since 1882.
Experience Barcelona with us on:
Seville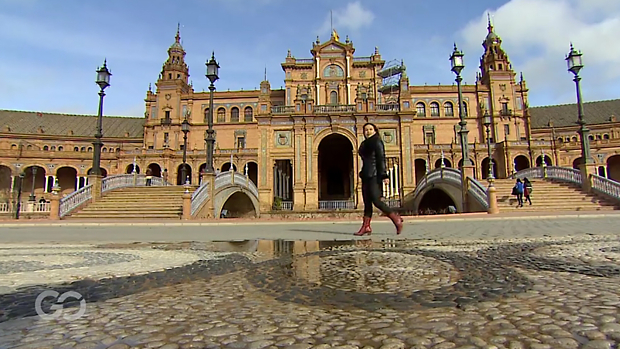 Situated in the southern Andalucia region, sunny Seville is the birthplace to three of Spain's best known cultural exports: tapas, flamenco, and Don Juan. In true Spanish style, a visit to this easygoing city is a feast to the senses. Stroll down cobbled streets lined with whitewashed buildings, stop for a bite to eat in a hole-in-the-wall tapas bar, and breathe in the heady scent of orange blossom that bathes the city in spring.
Seville's long and winding history is reflected in its delightful hodgepodge of architecture. Roman ruins mingle with Moorish creations, such as the Real Alcázar, a spectacular Mudéjar palace complete with intricate carvings, colorful mosaics, and Eden-like gardens. The city's skyline is dominated by the soaring spires of the Seville Cathedral, the world's largest Gothic cathedral and the final resting place of famed explorer Christopher Columbus.
But for all its cultural and architectural treasures, Seville is perhaps most notable for its feasts. The city's Semana Santa (Holy Week) is considered the best in Spain: For the week leading up to Easter, crowds throng the streets to watch in awe as penitents groan beneath the weight of ornate wooden floats during daily religious parades. Seville takes on a carnival atmosphere yet again during the Feria de Abril, a celebration of spring that lasts two weeks and keeps the sevillanos dancing until dawn.
Experience Seville with us on:
Ronda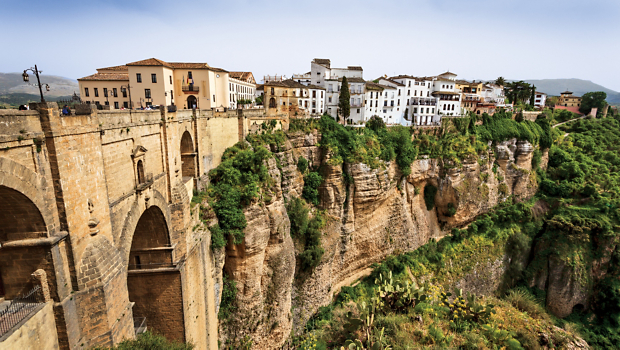 Perched high atop a cliff and gauged by a 360-foot ravine, Ronda seems an improbable place to build a city. But with its precarious position comes a big payoff: Dramatic views of the Serranía de Ronda mountains surround this ancient whitewashed city, known as a Pueblo Blancos(White Village) for its distinctive alabaster look. Hike down El Tajo ravine to take in the superb views of Ronda from below, and sample the region's unique wines—the high altitude produces grapes of a lighter, and more interesting, bouquet.
Or, if you're feeling more daring, visit the Plaza de Toros, one of the oldest bullrings in Spain. The tradition of bullfighting has deep roots in Ronda: the legendary Pedro Romero—the first bullfighter to confront his bovine nemesis on foot, and not on horseback—was born here. And each September, the city alights with activity for the Feria Goyesca, the annual bullfighting festival, to see the fearless matadores in action.
Experience Ronda with us on:
Andorra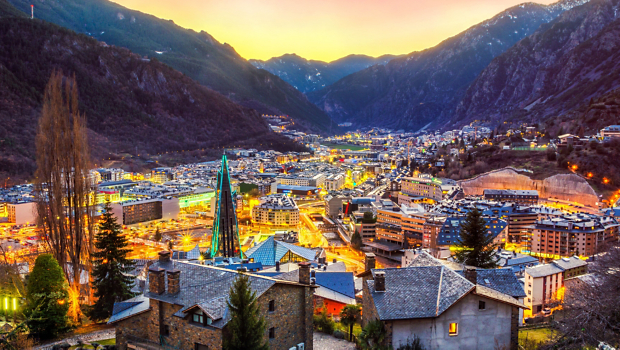 Nestled between France and Spain, tucked into the majestic peaks of the Pyrenees, is the tiny independent principality of Andorra. A blend of vibrant towns and remote mountainous reaches, breathtaking Andorra attracts visitors year-round—but especially in the winter. Its capital, Andorra La Vieille, is a bustling city of shops, spas, restaurants, and bars geared toward entertaining the ski resort crowd. Yet it also offers visitors the quiet of its charming, cobblestoned Old Quarter and the spectacular backdrop of the lofty Pyrenees Mountains.
Experience Andorra with us on:
La Coruna
La Coruna is a port city in northwest Spain on a promontory in the Galicia region. The city's winding streets are lined with Romanesque architecture—a reminder of its storied past. It's believed to have been established as a Celtic settlement. However, it wasn't until the rise of the Roman Empire when the port became one of the region's most important locations in navigation routes that La Coruna began to blossom into the cultural hub it is today.
The city is now known for the historical events that took place there, such as the defeat of English privateer Sir France Drake in 1589 when he tried to take over the city. Within the city's medieval old town is the arcaded Plaza de María Pita, which features the Estatua de María Pita, a statue of the citizen who warned the town of an invasion. La Coruna is also famous for its Roman lighthouse, the Tower of Hercules, which was the first working lighthouse during Roman times. It's now a national monument, offering sweeping panoramas of the coast.
Experience La Coruna with us on:
Santiago de Compostela
The cobblestone streets of Santiago de Compostela have witnessed the footfalls of countless pilgrims—or peregrinos—each one taking their last determined steps toward the final stop of an epic journey of faith. Some ride in on bicycles, some carry walking sticks, the most fervent arrive barefoot. All will make their way past the arcaded streets, perhaps not even seeing Santiago's elegant beauty at first, as they only have eyes for the Camino's end: the city's Gothic cathedral.
According to legend, a ninth-century Galician shepherd witnessed a star moving across the sky and followed it, its light eventually leading him to a burial site. A local bishop was called to examine the bones found there and he proclaimed them to be those of James the Great, one of the twelve Apostles of Christ, the patron saint of Spain. Upon hearing the news, the Spanish king ordered a cathedral be built on the spot. This legend drew the faithful from across the country and all over the world—eventuating in the famous Camino de Compostela pilgrimage that still beckons people to this day.
Now an UNESCO World Heritage Site, Santiago's old city center welcomes modern-day peregrinos at the 700-year-old Obradoiro Square and Platerias Plaza, the arrival point of thousands of pilgrims every day. The cathedral, also a UNESCO site, is a fascinating mix of architectural styles. Construction began in 1075 and continued to expand over the centuries, with embellishments continuing into the 19th century.
The capital of Galicia, Santiago also offers travelers who have arrived by less-arduous means not only these grand sights, but smaller streets and plazas lined with cafes and seafood restaurants where you can sit and watch both locals and pilgrims walk by.
Experience Santiago de Compostela with us on:
Featured Reading
Immerse yourself in Spain with this selection of articles, recipes, and more
ARTICLE
Learn how to make a traditional paella with this recipe, and let the flavors of Spain travel into your home.
ARTICLE
Do you think you know ham? Learn more about how the Spanish have perfected this savory delicacy.
RECIPE
This cool, creamy tomato soup, topped with delicate Spanish ham is a savory treat for any season.
Then & Now: The Alhambra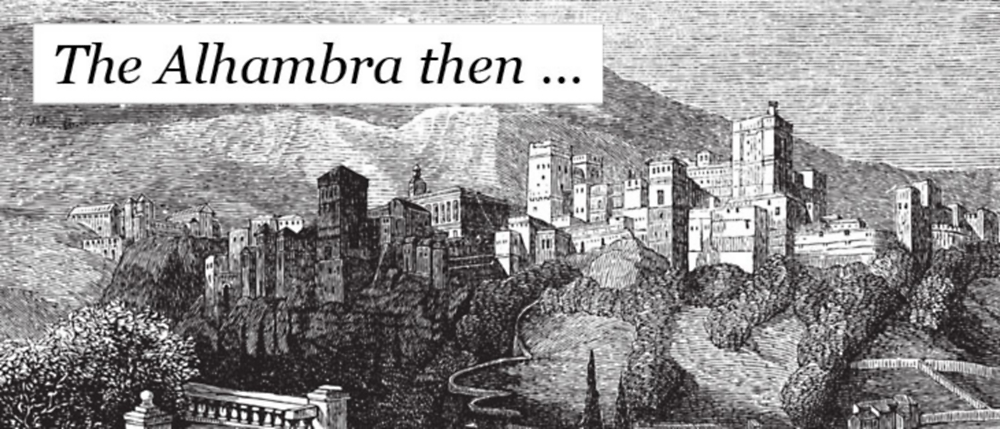 A Moorish palace complex beyond the Sierra Nevada mountains of Granada, Spain, the Alhambra has served many purposes over the course of history, from military fortress to royal home. Under the Muslim Nasrid Dynasty, it became a fully fortified citadel by the 13th century, complete with a mosque and tall surrounding buildings that essentially comprised a small city. 1492 ushered in the Christian Reconquista of Granada, transforming the mosque into a Church and some of the buildings into Renaissance-style housing for Emperor Charles V.
Other than those who inhabited it and influenced its structure, much about the Alhambra is largely unknown. Historians suspect it may even have been erected in Roman times. Regardless of its origins, over the years it has become renowned for the captivating crimson hues that bounce off its walls during sunset, giving it the nickname the "Red Castle."
Due to neglect between the 17th and 18th centuries, many buildings were left unused or converted into pubs or brothels. The monument's gradual fall into disarray culminated in Napoleon's armies attempting to demolish the entire fortress in the 19th century. Though the complex still stood after the attack, the Alhambra had lost the warm glow that had lit the way of Spaniards for centuries. Restoration efforts began shortly after the Napoleonic Wars.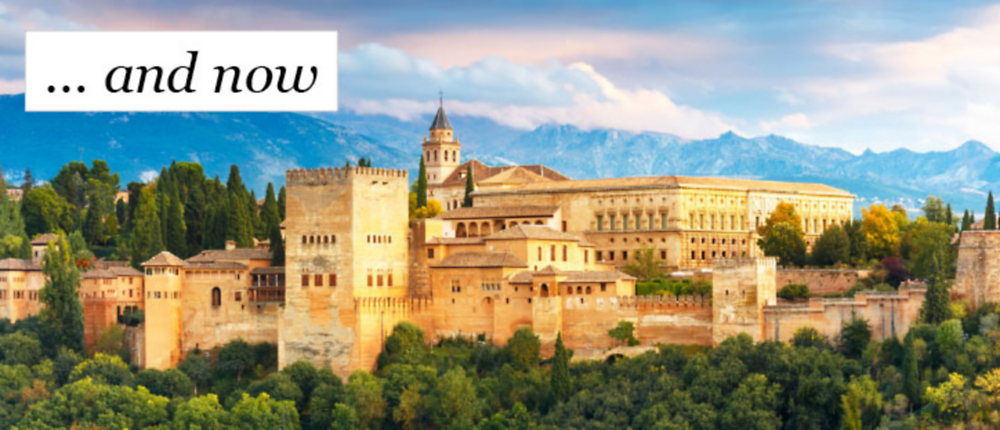 The Alhambra is a mosaic made up of bits and pieces of Spain's elaborate religious and cultural history, and restoration efforts continue to this day to preserve this architectural marvel. In 1984, the Alhambra was recognized as a UNESCO World Heritage site.
A plethora of visitors flock to the Alhambra each day, though morning tours make for an intimate experience with fewer crowds. Visitors can tour the number of palaces, religious buildings, courtyards, and the remnants of the ancient citadel to see the stunning contrasts in architectural trends that built up this fortress over time. A ticket can also allow passage through the Palacios Nazaries, the awe-inspiring Islamic palaces at the complex center to which access is rigorously monitored.
At sunset, locals and tourists alike look out for the picturesque view of the palaces' reddish glimmer against the mountain range.
You can see this incredible palace complex for yourself on our Spain & Portugal in Depth vacation.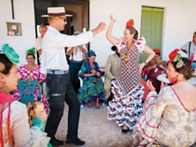 Learn more about the intricacies of Spanish culture and history in the following article, "Flamenco: Heart of Spanish Dance."
Read Article >>
Learn more about iconic Spanish architecture through this independent film, "100 Wonders: Don Justo's Cathedral."
Watch Film >>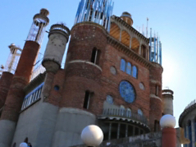 Recipe: Spanish Paella
Spanish Paella
Bring the flavors of Spain into your kitchen with this delicious paella recipe.
Courtesy of Epicurious
Ingredients:
1 3/4 cups dried lima beans (broad beans), soaked overnight in 10 cups water and drained
6 1/2 teaspoons salt, divided use
1 rabbit (about 2 pounds)
1/2 cup extra virgin olive oil
1 large chicken (about 4 pounds, 8 ounces), cut into 8 pieces
2 teaspoons freshly ground black pepper
4 ripe tomatoes, peeled and puréed
1 3/4 cups chopped onions
2 1/2 teaspoons minced garlic
2 3/4 cups green beans (preferably flat romano beans)
2 1/2 to 3 quarts (2 1/2 to 3 liters) water, plus more as needed
1 rosemary sprig
2 generous pinches saffron
4 cups Bomba rice
Preparation:
Bring 10 cups of water to a boil over medium-high heat and add the dried beans. Reduce the heat to a simmer and cook until just tender, 1 to 1 1/2 hours. Stir in 2 teaspoons of salt and let rest in their liquid for about 30 minutes before draining.
Cut up the rabbit: Cut off the hind legs, using a sharp boning knife to slice between each leg and the hip joint. Cut each hind leg into two pieces, slicing at the joint between the thigh and leg. Cut off the front legs, slicing between each leg and the shoulder joint. Cut the body into three sections: ribs, loin, and bottom, using a heavy meat cleaver. Cut the loin in half, then cut the ribs in half through the breast and backbone, then cut each half in half.
Prepare a wood (or charcoal) fire and heat the oil in a large paella pan set over the hottest part of the fire. Season the chicken and rabbit with 2 teaspoons each of salt and pepper. When the oil is hot, add the chicken and rabbit and fry over medium-high heat, turning the meat to brown all sides evenly, 8 to 10 minutes.
Add the tomatoes, onions, garlic, and green beans and continue to cook over medium heat until the beans are nearly tender, about 15 minutes. Add 10 cups of water and the rosemary sprig and move to the hottest part of the grill, or rearrange or add coals to raise the heat to high. Cover the pan with a grill lid.
Remove the lid when the water comes to a boil. Stir in 2 1/2 teaspoons of salt and the saffron, then sprinkle the rice evenly around the pan directly into the liquid, avoiding the meat.
Stir gently one time only to evenly distribute the rice (do not stir again). Remove the rosemary.
Cook, uncovered, turning the pan one-quarter turn every 5 minutes to help ensure even heat distribution. Cook the rice over high heat for 10 minutes, or until the water is almost absorbed, then move to a cooler part of the grill and cook at a gentle simmer over low heat for another 10 minutes, or until the rice has absorbed all of the liquid. The rice should be al dente when it is done; if it is too firm when the liquid is absorbed, add additional water 1 cup at a time, continuing cooking until the rice is done. During this period, keep the heat at a level that allows the liquid to simmer gently.
Remove the paella from the heat, and cover and allow to sit for 5 to 10 minutes before serving. Serve about 2 cups of the rice and vegetables and 1 piece each of the rabbit and chicken for each of 8 servings in large heated soup bowls. Or place the warm paella pan on the table and allow guests to serve themselves.
Active Time: 3 hours
Total Time: Overnight for lima beans, plus 3-hour active time
Servings: 8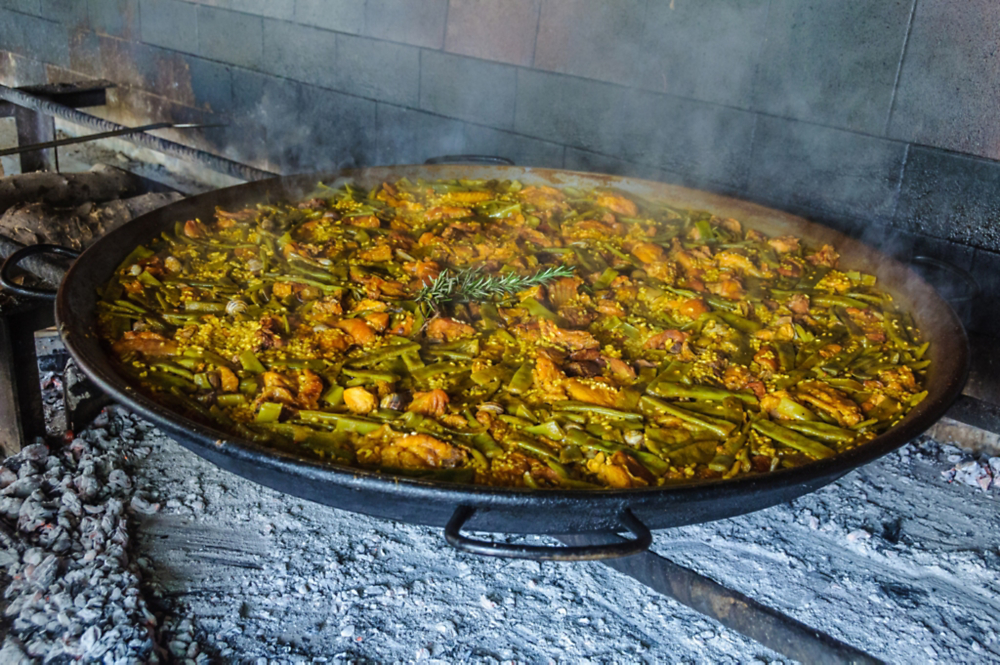 A Culture of Ham Connoisseurs
by Alison Rohrs
Each year, Spain produces some 40 million dry-cured hams. That's nearly one leg for every citizen. It's no surprise that the country consistently emerges as the world's biggest producer and consumer of ham. One of the country's most famous and highest praised chefs, Ferran Adrià, has even claimed that jamón is "a cultural thing. It's very Spanish."
To get a better sense of the nation's obsession, visit one of Madrid's many branches of the Museo del Jamón. In a place this passionate about cured meats, a simple deli transforms into a sophisticated museum, and the exhibit displays hundreds of hanging pork shanks, cured to salty perfection.
Or you could explore the rows of Madrid's San Miguel Market, where you'll find stall after stall like Mas Gourmet, adorned with rows thick jamónes. Each leg comes from a specific region and pig diet: cereal, grass, acorns, or a combination. Even if the signs had English translations, it would still feel like a foreign language to a novice gourmand.
Luckily, many vendors are connoisseurs. They can shave off paper-thin slices and offer the kind of tasting notes you might expect at an upscale winery. A cereal-fed foreleg (paleta) is light in color and taste and somewhat grainy in texture. Meanwhile, you can detect earthier notes in a slice from the grass-fed pig. For a more expensive portion, a hind leg (jamón) from an acorn diet should be marbled with smooth—almost creamy—fat and have slightly nutty flavor.
The majority of the market selection is jamón serrano (mountain ham), made from white pigs traditionally raised in high, arid places. The practice of curing ham dates back to the Roman Empire, when highland villagers used salt and dry mountain air to preserve and enrich their pork. Today, jamón serrano can be produced anywhere in the country in special sheds, but it must pass rigid quality standards to earn the serrano designation, including at least one centimeter of fat cover and an aging period of no less than 252 days.
Over the years, the Spaniards have streamlined the curing process into a science. First, the fresh, cleaned ham gets a coating of sea salt, which only stays on for a day or two. After the initial coating is removed, the remaining salt gradually migrates inward toward the bone, drawing out moisture. The aging process lasts an average of twelve months and determines the final flavors and texture of the ham.
Like many fine wines, the complexity of jamón depends in part on where it's from and how long it ages, and the Dom Pérignon of cured meats is jamón ibérico (Iberian ham). A single leg once sold for upwards of $2,500 in London, making it the most expensive ham in the world. Most foodies describe it as smoother, more nuanced, sweeter, and slightly gamier than jamón serrano. International top chefs tend to wax poetic the pricey delicacy: The Travel Channel's Anthony Bourdain once called it "enlightenment in a mouthful."
Jamón ibérico only comes from pata negra (black-footed pigs) from Southwestern Spain and Southeastern Portugal, originally descended from wild boars. These Iberian pigs are allowed to roam freely, foraging for herbs, roots, and holm-oak acorns, which are sweeter than most. Regulations mandate that no more than two pigs can share two-and-a-half acres of grazing land, so they get plenty of food and exercise. A fully grown pata negra can weigh more than 400 pounds, but its acorn-centered diet leaves its fat high in good cholesterol and low in harmful cholesterol, like olive oil. Locals praise the meat's health benefits and joke that the round pigs are "olives with legs." Curing the meat to the right texture and flavor can take up to four years.
Whether you splurge on a few slices of dark red ibérico or opt for the popular serrano, eating jamón is sensory experience. Don't be afraid to pick it up with your fingers and smell its aroma before you taste it. Served at room temperature, its silky fat practically melts on your tongue. You can try it on an open-face sandwich with fresh tomato spread or paired with a robust Rioja or a dry, white Albari?o wine. But like many Spaniards, you'll probably find that the jamón is so rich and multifaceted that it's best unadorned—the perfect afternoon snack or palate-piquing appetizer.
A guide to Spain's favorite treat
Recipe: Salmorejo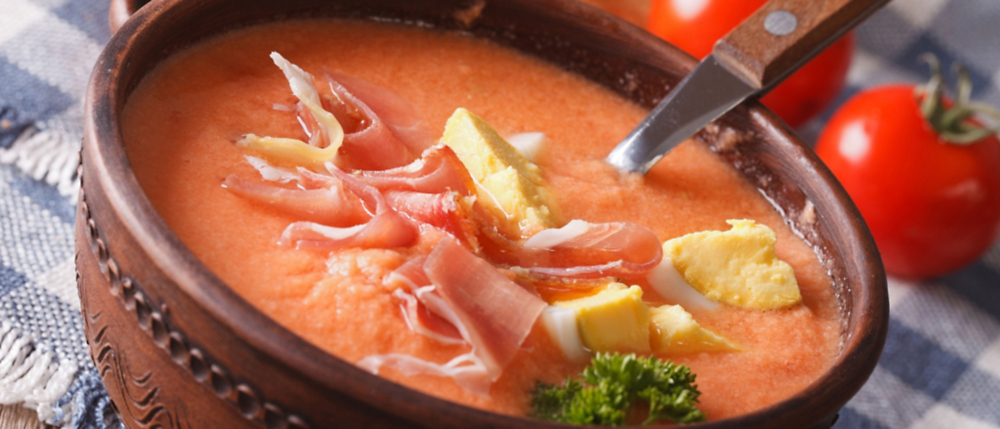 Salmorejo is the lesser-known relative of gazpacho. Like its more famous cousin, it's a cold, savory tomato soup, but this dish, most popular in southern Spain, is pureed until it's creamy and rich. Made from simple ingredients, it somehow manages to be healthy, light, and filling at the same time.
The trick to getting the best taste from your salmorejo is to choose high-quality tomatoes and olive oil. As a garnish, you can add chopped boiled egg, as well as delicate Spanish ham. In Spain, a top shelf salmorejo is served with Jamon Iberico, which unfortunately tends to cost an arm and a leg outside of the country. For a more budget-conscious soup, Serrano ham or even prosciutto make fine substitutes. For a vegetarian option, the ham garnish can be skipped entirely.
Ingredients:
3 tbsp. coarse salt, plus more to taste
8 ripe plum tomatoes, cored, halved, and seeded
1 clove garlic, crushed
1 day-old baguette (about 10 oz.), cut into large pieces
1/2 small yellow onion
1 cup extra-virgin olive oil, plus more for drizzling
2 tbsp. sherry vinegar
Freshly ground black pepper, to taste
3 hard-boiled eggs, chopped
1 1/2 cups finely chopped ham (Iberian or Serrano) or prosciutto

Preparation:
Combine the salt, tomatoes, garlic, bread, and onion in a bowl. Pour boiling water over the ingredients until submerged, and let sit for 1 hour.
Drain the bowl, but keep 1 cup of the liquid. Place everything except the bread into a blender.
Squeeze the bread to remove excess water, and then place the bread in the blender, too. Add the reserved cup of liquid from step 2, as well as the olive oil and sherry vinegar. Purée until smooth; season with salt and pepper, and refrigerate.
When the soup has chilled, pour into serving bowls; top with eggs, ham, and drizzle more olive oil to taste.
Prep Time: 1 hour
Cook Time : 10 minutes
Servings: 8