The Leader in Enriching Cultural Experiences since 1958
You're receiving this message because your web browser
is no longer supported
We recommend upgrading your browser—simply click the button below and follow the instructions that will appear. Updating will allow you to accept Terms and Conditions, make online payments, read our itineraries, and view Dates and Prices.
To get the best experience on our website, please consider using:
Safari (for Mac or iPad Devices)
Update Browser

panama
Get the Details On Our Panama Adventure
Compare Trips
Find the Adventure That's Right for You
Our Activity Level rating system ranks adventures on a scale of 1 to 5 to help you determine if a trip is right for you. See the descriptions below for more information about the physical requirements associated with each rating.
Travelers should be able to climb 25 stairs consecutively, plus walk at least 1-2 miles over some uneven surfaces without difficulty. Walks typically last at least 1-2 hours at a time. Altitude can range from zero to 5,000 feet.
Activity Level 2:
Moderately Easy
Travelers should be able to climb 40 stairs consecutively, plus walk at least 2-3 miles over some uneven surfaces without difficulty. Walks typically last for at least 2-3 hours at a time. Altitude can range from zero to 5,000 feet.
Activity Level 3:
Moderate
Travelers should be able to climb 60 stairs consecutively, plus walk at least 3 miles over some steep slopes and loose or uneven surfaces without difficulty. Walks typically last for 3 or more hours at a time. Altitude can range from 5,000 to 7,000 feet.
Activity Level 4:
Moderately Strenuous
Travelers should be able to climb 80 stairs consecutively, plus walk at least 4 miles over some steep slopes and loose or uneven surfaces without difficulty. Walks typically last for 4 or more hours at a time. Altitude can range from 7,000 to 9,000 feet.
Activity Level 5:
Strenuous
Travelers should be able to climb 100 or more stairs consecutively, plus walk at least 8 miles over some steep slopes and loose or uneven surfaces without difficulty. Walks typically last for 4 or more hours at a time. Altitude can range from 10,000 feet or more.
Hide Acivity Level
PRICE
including international airfare
HIGHLIGHTS & ACTIVITIES IN PANAMA
*This information is not available for our trip extensions. You must reserve the main trip to participate on this extension.
**This information is not currently available for this trip. Please check back soon.
Recommended Viewing
Watch this video showcasing what makes this country so unforgettable
ReelEarth: El Cristo Negro (The Black Christ)
Follow Darío Ríos Espinoza as he joins thousands of other pilgrims in Panama on their journey to the church of Portobelo for a procession and prayer dedicated to the "Nazareno," or el Cristo Negro (the Black Christ) icon.
Recommended Videos
Watch your fellow travelers' favorite films & videos
Judy and Cathryn's Panama Trip Experience
After meeting in an organization for single women in Richmond, VA, Judy and Cathryn traveled to Panama together where they experienced a basket weaving demonstration, a traditional dance lesson, and a surprising snack on Iguana Island.
Panama 2011
Submitted by Allen Rosenzweig, 7-time traveler from Saratoga, California
See the natural and man-made wonders of Panama through the eyes of traveler Allen R.
Balsa Trees—Natural History
Discover the fantastic array of animals nourished by Panama's balsa trees, which bloom when food is scarce.
Embera Village in Panama Rain Forest, May 2010
Submitted by Vincent Tzeng, 8-time traveler from Reading, Massachusetts
Join traveler Vincent T. as he boards a dugout canoe to visit an Embera village and learn about the traditions of this native tribe.
Travelogue: Panama 1936
Embark on a time-traveling adventure—discover the Panama Canal in this film from 1936.
Panama: Month-by-Month
There are pros and cons to visiting a destination during any time of the year. Find out what you can expect during your ideal travel time, from weather and climate, to holidays, festivals, and more.
Panama in January-March
Panama's dry season from January to March is perhaps the most picturesque time of year. Yet, you may still catch what locals call bajareque, a comfortable rainy mist. For beachcombers, a pleasantly warm seaside climate makes the Pacific coast a great place to get some sun on white-sand beaches, while the Caribbean coast is known for its excellent surfing. The warm, clear waters on either coast are also great for scuba diving and snorkeling.
In the mountains, temperatures are more comfortable than in the lowlands. This is the best time to hike, and Panama's national parks are full of wildlife. While in the jungles, you'll also see that Panama's exotic bird populations are out in full force, so take advantage of prime birdwatching season.
January through March is the most popular time to travel to Panama, so expect the coasts and cities to be crowded. Your tourism dollar will not go as far for street vendors and restaurants, yet the beauty that blooms in this season cannot be missed.
Holidays & Events
Mid-January: The Chiriquí Highlands Flower Festival in Boquete is a celebration of art through flowers. You'll see floats covered in bright blooms, and artistic installations depicting landscapes composed completely of flowers.
Mid-January: The Panama Jazz Festival is the country's premier festival celebrating the genre. Musicians from all around Panama and the world come to perform.
Late March: Semana Santa is the seven days leading up to Easter. As a predominantly Catholic country, Panamanians will commemorate the prophet Jesus' life with feasts, plays, and in some cases, parades.
Must See
Carnaval is a festival that floods South and Central America with frenetic energy. Thousands swarm the main cities to party—people wearing outlandish outfits dance in the streets, and floats depicting demonic, political, and satirical themes are visually stunning. Expect to get wet—one common tradition is dousing the crowd with a fire hose.
Watch this film to discover more about Panama
Resisting "the Foreign Tentacle"
Discover how Panama's indigenous Kuna people are striving to maintain their culture in a changing world.
Panama in April-June
The rainy season begins in May, which means water levels throughout Panama are higher. Whitewater rafting is a favorite pastime at this time of year, as you have your choice of robust rapids and calmer, smoother flows.
As most tourists prefer the dry season, the heavy crowds of winter will be gone. In Panama, the frequent downpours will often fade away to clear, shining skies on a whim—this in itself is a sight to behold. The rainforest and high-elevation cloud forests become especially stunning—Panama's flora blooms in intense color from the increased rainfall.
Holidays & Events
May 1: Similar to our Labor Day celebrations in America, Panamanians take this day to celebrate the achievements of workers around the country.
Watch this film to discover more about Panama
Resisting "the Foreign Tentacle"
Discover how Panama's indigenous Kuna people are striving to maintain their culture in a changing world.
Panama in July-September
During Panama's summer, both coasts are a welcome escape from the hot and humid climate. Tourists tend to avoid Panama, and most of Central America, because of the enduring heavy rains at this time. You can travel at a value, as prices for almost everything are much lower.
Opposite to Panama's autumn, the Pacific Coast becomes ripe for surfing. The wind patterns are now affecting the other side of the country, so waves for all skill levels are available. This would be a great time to learn the art, or practice with more robust waves.
Holidays & Events
Mid-July: The Pollera Festival in Las Tablas celebrates the art of making polleras—meaning "skirts" in Spanish. Hundreds of women take to the streets in fine, ornately-embroidered dresses.
August 15: The Founding of Old Panama commemorates the founding of Panama City in 1519.
Mid-September: The International Bocas Del Toro Sea Fair takes place along the coast of the province of Bocas Del Toro. You can catch boat races, inexpensive seaside vendors, and dance to the beat of live Panamanian music.
Watch this film to discover more about Panama
Resisting "the Foreign Tentacle"
Discover how Panama's indigenous Kuna people are striving to maintain their culture in a changing world.
Panama in October-December
By the time the rainy season ends in November, Panama is covered in lush vegetation. Flowers are blooming, and peering down a mountainside will reveal astoundingly verdant landscapes. Hiking through San Lorenzo National Park, or any of Panama's outdoor reserves, will reveal a newly-born effusion of life. Take advantage of the longer daylight hours to enjoy the country's natural treasures.
As the rains start to wane by October—and almost completely ceasing in November—you'll have access to many roads that might have been closed during the previous season. Tourism season only starts picking up in December, so this is the time to take advantage of less rain, lower prices, and Panama's most picturesque flora.
Holidays & Events
November 2: Día de Muertos is a day when family comes together to remember relatives who have passed away, often around a large family feast.
November 3: This day celebrates Panama's independence from Colombia in 1903. Expect parades to fill the streets of larger cities, and for bars and restaurants to be open later.
November 28: Panama obtained independence from Spain in a bloodless revolt on this day. Military parades, parties in the street, and music make this a great time to see much of Panamanian culture.
Watch this film to discover more about Panama
Resisting "the Foreign Tentacle"
Discover how Panama's indigenous Kuna people are striving to maintain their culture in a changing world.
Average Monthly Temperatures
Panama Interactive Map
Click on map markers
below to view information about top Panama experiences
Click here to zoom in and out of this map
Panama Canal
A testament to mankind's ingenuity and perseverance, the Panama Canal has rightly earned its place as the unofficial "Eighth Wonder of the World." Slicing along the Continental Divide, the canal stretches 50 miles through Panamanian mountains and jungle to connect the Atlantic and Pacific Oceans. This awesome feat of engineering allows up to 40 ships a day—or 14,000 annually—to bypass the 9,000 mile trip around Cape Horn.
The dream of building a sea route to more easily connect Europe and Asia was conceived in the 16th century, but the enormity and scope of the project (and limited technology at the time) deemed it too ambitious. Two centuries later, after a failed French attempt, the U.S. took over construction of the canal; it took 6,000 dynamite-wielding laborers to dig, cut, and blast their way through the earth. One section of the canal, now known as Gaillard Cut, proved particularly tricky to excavate: the rocky terrain and frequent landslides in this area resulted in the dredging of only a narrow strait, which today is the most difficult part of the canal to navigate. Despite setbacks, the Panama Canal officially opened on August 15, 1914 to much fanfare.
One of the best ways to experience the thrill of this man-made marvel is on a Panama Canal cruise. A series of locks—Miraflores and Pedro Miguel locks on the Pacific side and Gatún lock on the Atlantic side—raises the water level to lift ships up to heights of 85 feet into the canal and then lower them, on the other side, back to sea level. A recent expansion of the canal allows the world's largest cargo ships to pass through.
Experience the Panama Canal with us on:
Panama City
Long known for its mellow Caribbean vibe, Panama City is experiencing a boom. An influx of foreign investment and new construction have transformed this formerly laidback capital city into an ultra-modern center of international finance, complete with sleek skyscrapers and its new unofficial title—"the Dubai of Latin America."
But Panama City hasn't lost its authenticity or charm: stroll through the Casco Viejo, an historic neighborhood dating back to the 17th century, to explore the city's colonial history and admire its elegant architecture with traces of Spanish, French, and early American influence. Here you will find the San Jose Cathedral, whose immense golden altar survived the pillage of a long-ago pirate, and the beautiful ruins of the Santo Domingo Convent. Stop by the lively San Felipe de Neri Market for a taste of Panamanian cuisine, or venture beyond the city's walls to discover the steamy jungle that awaits.
Of course, no visit to Panama City is complete without an up-close view of the Panama Canal. Watch this marvel of engineering in action as swanky cruise liners and colossal cargo ships are lifted into the canal at the Miraflores and Pedro Miguel locks.
Experience Panama City with us on:
Embera Indian Village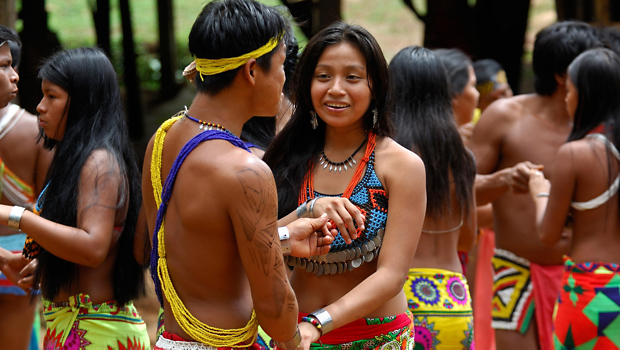 Panama is a veritable melting pot of cultures, with roots in Europe and Africa. But the indigenous people who originally called the isthmus home still hold true to their unique culture and traditions. One of these tribes is known as the Embera.
The Embera are often associated with the Wounan people, though the two cultures were effectively separated during the latter part of the last century. Since these two tribes have no written history, little is known of their early heritage. It is believed they originally were semi-nomadic hunter-gatherers and fishermen, but the construction of the Pan-American Highway reduced their rain forest habitat, and they adopted a more agricultural lifestyle while still retaining their traditional ways.
Among the most stunning of these is body painting. To facilitate their movement through the jungle, the Embera once wore minimal clothing, and would cover the top parts of their bodies with black dye from the jagua, an inedible jungle fruit. This custom is still used today during ceremonies and celebrations; solid blocks of ink are placed against contrasting patches of bare skin, or intricate patterns are etched on the skin with a bamboo stick. The indelible blue-black dye remains on the skin for up to two weeks, until it is naturally exfoliated.
Also skilled craftspeople, the villagers will explain the technique used to make their canastas, baskets so tightly woven that they can even hold water. Visitors to their village can learn about the natural fibers and vegetable dyes of the rain forest used in their creation.
Experience the Embera Indian Village with us on:
Taboga Island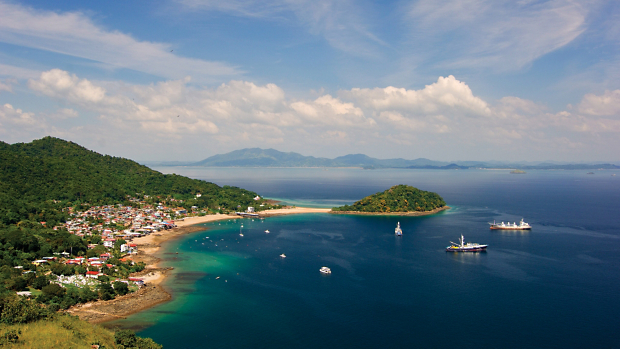 For an island of only 2.3 square miles, Panama's Isla Taboga is endowed with an expansive history. This "Island of Flowers," just twelve miles off the coast, has witnessed its fair share of beauty—and upheaval.
Nestled in the Pacific side of the Panama Canal, Isla Taboga lies within sight of Panama City. Its pristine beaches, lush flora, picturesque port town, and close proximity to the city make it a favorite weekend getaway for Panamanians and international travelers alike. But these modern day-trippers were not the first to appreciate Taboga's prime location.
From Spanish conquistadors to infamous pirates such as Henry Morgan and Francis Drake, the island's prime location—unfortunately for the indigenous people—offered many benefits. The island's offshore depths can accommodate safe anchorage for vessels of any size and its close proximity to the mainland made it an ideal place for staging attacks.
Bloodthirsty pirates and conquistadors were not the only people drawn to Isla Taboga, of course. The Island of Flowers also beckoned to those who appreciated it for its lush vegetation, tranquil pace, and peaceful inhabitants. One such seeker of beauty was post-Impressionist painter Paul Gaugin, who arrived on Taboga to find inspiration in 1887.
Today, Isla Taboga is the picture of paradise—offering its visitors warm, tropical waters, charming villages, and a laid-back atmosphere.
Experience Toboga Island with us on:
The M/S Discovery
During our Panama Canal transit cruise, we'll stay aboard the 108-foot M/S Discovery, a 24-passenger catamaran designed specifically for small group exploration and chartered exclusively for O.A.T., with a staff 100% dedicated to our group. In the dining area, bar, and lounge, floor-to-ceiling glass walls offer spectacular views as we sail. The ship is also equipped with Zodiacs and kayaks and a unique platform that lowers kayakers gently into the water and retrieves them just as gently for safety and comfort. The Discovery is also one of the only ships that can drop anchor overnight in Gatun Lake, due to its size. Passengers will spend the night moored at the lake, listening to the lullaby of the rain forest as they drift off to sleep.
Discover our Panama small ship
Preview the experience that awaits in Panama aboard our privately chartered, 24-passenger catamaran—the M/S Discovery.
Experience the M/S Discovery with us on:
Chitre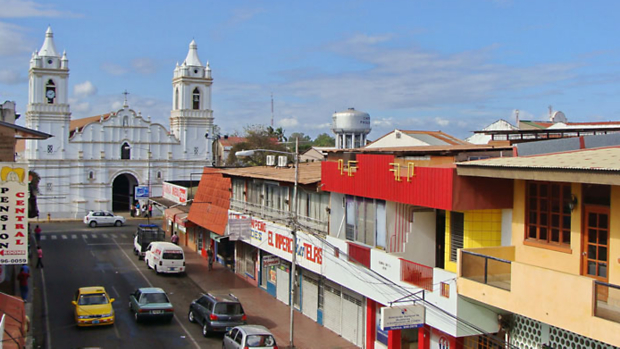 A corner of Panama few travelers get to see, Chitre offers a truly panoramic view of Panamanian culture on its own terms. The city's streets and people, home to its own Carnival celebration as well as many others, drum life into this small city of about 80,000.
Established in the mid-19th century as a parochial settlement, Chitre has become in many ways a cultural hub of the Herrera Province of Panama. The city hosts provincial baseball games, boasts many festivals throughout the year—including the Celebration of San Juan in October—and is famous for its elegant red-tiled houses that harken back to Spanish colonial times. One of Panama's oldest communities, Chitre encompasses a blend of old and new that brings the best of the Azuero Peninsula to the fore.
Experience Chritre with us on:
Featured Reading
Immerse yourself in Panama with this selection of articles, recipes, and more
ARTICLE
When Roosevelt was elected, he dreamed of a link between the Atlantic and Pacific oceans. See how his dream came to life.
From Sea to Shining Sea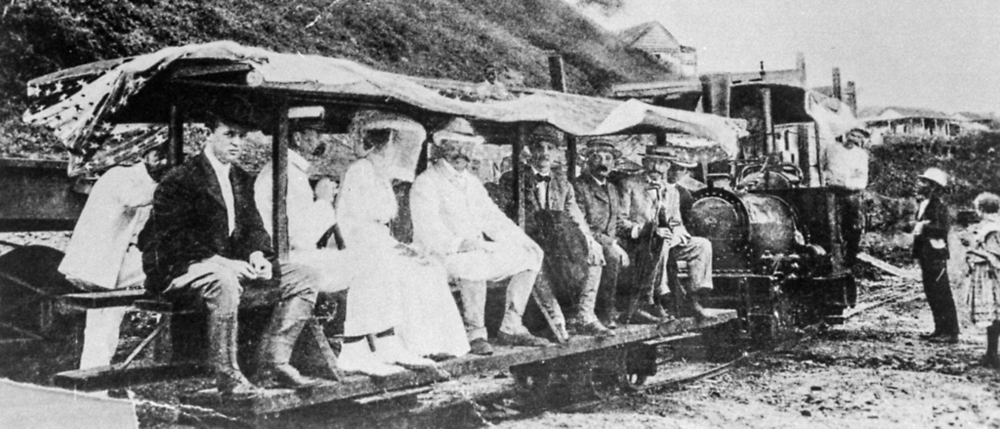 American influence in the Panama Canal
by Alison Rohrs, for Grand Circle
When Theodore Roosevelt was elected president of the United States in 1901, he dreamed of a link between the Atlantic and Pacific oceans that would improve trade and send a message of American power to the world. The French had previously tried to construct a water passage on the Isthmus of Panama in the 1880s, but they abandoned the project after eight years and 20,000 casualties. Yet in an age of growing national confidence and engineering breakthroughs, Roosevelt believed Americans could accomplish what others considered impossible.
The Panama Canal is arguably the greatest engineering feat of the 20th century, but the legacy of its construction extends far beyond its man-made shores. The process of carving the 51-mile waterway catalyzed the formation of a new nation, launched a campaign to eradicate yellow fever, and introduced the U.S. as an international power for the first time in history.
For the Americans, political obstacles arose before engineering challenges. In the early 1900s, Panama was a small province of Colombia, which had strict sovereignty rules. Colombia rejected an American treaty for the isthmus because Roosevelt didn't just want to create a canal—he wanted to control it. As Matthew Parker, author of Panama Fever, put it, "Roosevelt felt that the United States should be leading the way in improving the world, even if bits of the world didn't necessarily want to be improved."
To circumvent the Colombian government, Roosevelt offered support to a group of Panamanian elites who were eager to have their own nation. On November 3, 1903, Panama declared its independence. The presence of U.S. Navy ships and bribes to Colombian soldiers prevented a battle in Colon, and a country was born in a bloodless revolution. A few weeks later, the U.S. gave the new nation $10 million for the right to rule and manage a 500-square-mile "Canal Zone," which bisected the country.
The next year, the Americans had to contend with nature. Original plans called for a sea-level canal to run from the Caribbean though dense jungle, the flood-prone Chagres River Valley, and the steep Culebra mountain range before reaching the Pacific. Roosevelt tasked the canal's first chief engineer, John F. Wallace, with the famous order to "make the dirt fly." Without adequate time for surveillance and testing, Wallace set to work with steam shovels and makeshift railways to remove rubble. Within a year, he was overwhelmed by the scale of the project, the high abandonment rates of workers, and the escalation of diseases like yellow fever and malaria.
The next chief engineer, John Stevens, demanded time to address underlying issues before digging. Declaring worker health his priority, Stevens called in Dr. William Gorgas, who had wiped out yellow fever in Havana, Cuba, by killing the mosquitos that carried it—despite widespread disbelief that insects spread illness. Gorgas drained swamps, treated still-water sources, and screened in hospital beds. By 1905, he had officially eradicated yellow fever in the Canal Zone, silencing the naysayers and saving countless lives.
Stevens recognized the difficulty of carving a sea-level canal through steep mountains. After months of lobbying Congress, he gained approval to create a revolutionary "lake and lock" canal. His design would dam the Chagres River to form Gatun Lake, while a series of locks (gated enclosures in the canal) would fill and drain to maneuver vessels over the mountains. The locks that Stevens envisioned were nearly three times longer than any that had come before.
Even with the locks, a staggering 100 million cubic yards of rock still needed to be removed from the Culebra Range. The ensuing dynamite blasts and frequent landslides made for incredibly dangerous working conditions. However, the mountain cut also required a huge amount of manpower: more than 20,000 employees.
Some 5,000 jobs were reserved for white Americans. For the harsh physical labor, Stevens turned to workers from the nearby West Indies, who would accept as little as ten cents an hour. By 1906, 70% of the Canal workers were West Indian, who largely handled the backbreaking and often deadly work. Of the 5,600 casualties during the American construction, 80% were black.
Stevens made tremendous advancements with digging and damming, and the visible progress helped to improve the workers' morale. In 1906, Roosevelt further inspired workers and rallied American goodwill for the canal by personally visiting Panama. His trip marked the first time a U.S. president had traveled abroad while in office.
Nonetheless by 1907, Stevens was exhausted. When he resigned, Roosevelt appointed Lieutenant Colonel Thomas Goethals to finish the canal. Goethals offered a deep understanding of hydraulics and the rigid discipline of the U.S. Army. He initiated around-the-clock construction and mercilessly quashed worker strikes. Under his direction, laborers built the colossal locks, and in May 1913, steam shovels burst through the final barrier in the Culebra Range. After a decade of work, the Panama Canal officially opened on August 15, 1914.
Nearly a century later, the canal remains an engineering marvel. It still transports about 16% of all trade bound for the U.S. Meanwhile, the political consequences of the construction continue to shape U.S. relations with Central America. Panamanians have long objected to continued American control of the Canal Zone. In 1977, Jimmy Carter signed a pair of treaties transitioning ownership of the Canal over a 22-year period. On December 31, 1999, the Canal Zone officially became part of Panama, finally uniting the country that connected the world's largest oceans.
American influence in the Panama Canal