The Leader in Enriching Cultural Experiences since 1958
You're receiving this message because your web browser
is no longer supported
We recommend upgrading your browser—simply click the button below and follow the instructions that will appear. Updating will allow you to accept Terms and Conditions, make online payments, read our itineraries, and view Dates and Prices.
To get the best experience on our website, please consider using:
Safari (for Mac or iPad Devices)
Update Browser

montenegro
Compare Trips
Find the Adventure That's Right for You
Our Activity Level rating system ranks adventures on a scale of 1 to 5 to help you determine if a trip is right for you. See the descriptions below for more information about the physical requirements associated with each rating.
Travelers should be able to climb 25 stairs consecutively, plus walk at least 1-2 miles over some uneven surfaces without difficulty. Walks typically last at least 1-2 hours at a time. Altitude can range from zero to 5,000 feet.
Activity Level 2:
Moderately Easy
Travelers should be able to climb 40 stairs consecutively, plus walk at least 2-3 miles over some uneven surfaces without difficulty. Walks typically last for at least 2-3 hours at a time. Altitude can range from zero to 5,000 feet.
Activity Level 3:
Moderate
Travelers should be able to climb 60 stairs consecutively, plus walk at least 3 miles over some steep slopes and loose or uneven surfaces without difficulty. Walks typically last for 3 or more hours at a time. Altitude can range from 5,000 to 7,000 feet.
Activity Level 4:
Moderately Strenuous
Travelers should be able to climb 80 stairs consecutively, plus walk at least 4 miles over some steep slopes and loose or uneven surfaces without difficulty. Walks typically last for 4 or more hours at a time. Altitude can range from 7,000 to 9,000 feet.
Activity Level 5:
Strenuous
Travelers should be able to climb 100 or more stairs consecutively, plus walk at least 8 miles over some steep slopes and loose or uneven surfaces without difficulty. Walks typically last for 4 or more hours at a time. Altitude can range from 10,000 feet or more.
Hide Acivity Level
PRICE
including international airfare
HIGHLIGHTS & ACTIVITIES IN MONTENEGRO
*This information is not available for our trip extensions. You must reserve the main trip to participate on this extension.
**This information is not currently available for this trip. Please check back soon.
Montenegro: Month-by-Month
There are pros and cons to visiting a destination during any time of the year. Find out what you can expect during your ideal travel time, from weather and climate, to holidays, festivals, and more.
Montenegro in December-February
The winter months see Montenegro blanketed in white, as snow falls heavily in the mountainous regions. There is less snow, and milder temperatures, along the Adriatic coast. While many tourist attractions shut down in the winter months, the Orthodox Christian holiday season makes this a unique time of year to visit.
Montenegro is a winter wonderland for skiers and other snow sports enthusiasts—90 percent of this small Balkan country is covered by mountainous terrain. As it is also one of the most overlooked ski areas in Europe, those who make the trip will be rewarded with uncrowded trails and affordable lift tickets.
Holidays & Events
January 7: In accordance with the Julian calendar, Orthodox Christmas falls each year on or near January 7. Most Montenegrins celebrate the day with a Badnjak (Yule Log), public bonfires, and a traditional round bread known as cesnica. If you find a coin buried in the cesnica, local lore says you'll be lucky for a year.
January 14: The Orthodox New Year is ushered in on this day.
Mid-February: Now in its 49th year, the annual Mimosa Festival draws crowds to the medieval town of Herceg Novi, when the mimosa trees begin to bloom, promising the arrival of spring.
Must See
For two weeks each February, Kotor gives itself over to Venetian splendor with masked balls, colorful parades, and costumed performances for its Winter Carnival, the last hurrah before the solemnity of the Lenten season.
Montenegro in March-May
The spring months are some of the best times to visit Montenegro. Warm, pleasant temperatures make for great exploring weather, and the shoulder season can offer good deals before the summer crowds arrive.
In May, white-water rafting season begins, as the snow melting in the mountains has subsided and the rivers are not too strong. Tara Canyon is perhaps the best place in the country to raft: Carving through the majestic Durmitor National Park, the canyon—and the river that runs through it—is the second deepest in the world, and affords unrestricted views of the park's nature and wildlife.
Holidays & Events
Mid-March: Camellia Day is a Kotor tradition that celebrates the camellia flowers blooming and the start of spring. The day's biggest event is the Camellia Ball, in which a local woman is crowned the "Lady of Camellia."
Must See
Alpine meadows become a blaze of colors as wildflowers erupt into life.
Montenegro in June-August
Montenegro's Adriatic coastline is bathed in near-constant sunshine during the summer months, luring locals and visitors alike to swim in the crystal-clear waters. Head inland to escape the crowds: Though it gets hotter, you'll have the pristine nature all to yourself, and frequent thunderstorms in the mountains bring relief from humidity.
A variety of outdoor festivals also makes this a particularly fun time of year to visit.
Holidays & Events
Late June: Now in its fourth year, the Southern Soul Festival brings an eclectic mix of musical acts to the white-sand beaches of Montenegro's southern coast.
July: Held in the small town of Bijelo Polje, in northeastern Montenegro, the Tamburaši Festival is a three-day folk music celebration. The tambura—a traditional Montenegrin instrument similar to a mandolin—is the star of the event.
June-August: During the summer months, Budva—nicknamed the "Theatre City"—plays host to artists, actors, and musicians as part of the Summer Festival. Performances take place in the city center and along the more than 30 beaches of the Budva Riviera, making this Montenegro's summer culture capital.
Early August: The Montenegro Film Festival showcases the country's best new films for a week each August, and features Q & A sessions with actors and directors.
Must See
Held on the third Saturday of each August, Boka Night shows off medieval Kotor at its finest: dramatic fireworks light up the night skies, town squares come alive with open-air music and dance parties, and a parade of boats gracefully glide across the bay.
Montenegro in September-November
September is an excellent month to visit Montenegro, as the heat and humidity of summer have dissipated—taking the crowds with them—but the ocean is still warm enough for a dip. October brings a delightful riot of color, painting the trees shades of orange, yellow, and brown, while November is known as the wettest month. Good deals can be found throughout the shoulder season, though some restaurants and hotels along the coast may be closed.
Holidays & Events
Late October: The Days of Plijevlja Cheese festival celebrates the local highland cheese and dairy produce of the Plijevlja region in northern Montenegro.
Late November: The ancient Roman town of Stari Bar is home to a 2,000 year old olive tree, reputed to be the oldest olive tree in Europe. So it is only natural that Stari Bar hosts a lively annual olive harvest festival each year, celebrating their most famous local product with traditional music, folk costumes, and, of course, plenty of olives.
Average Monthly Temperatures
Montenegro Interactive Map
Click on map markers
below to view information about top Montenegro experiences
Click here to zoom in and out of this map
Kotor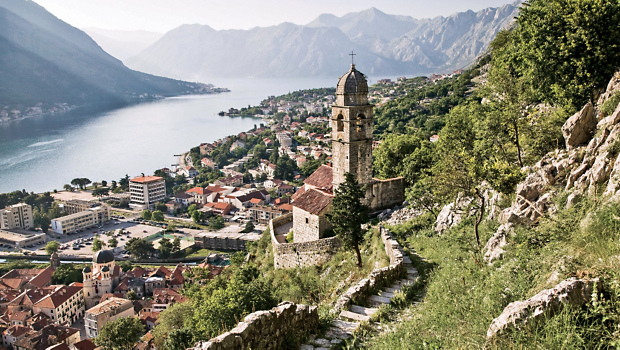 Tucked between vertiginous mountains and a crystalline bay is the medieval town of Kotor, whose Old Town has been designated a UNESCO World Heritage Site. A compact warren of narrow streets and charm-filled plazas, everywhere you walk affords stunning views, both natural and man-made. The imposing stone walls that wind around the town were erected by the Venetian Empire in the middle ages—Kotor's tranquil bay was the perfect base of operations for Venice's once mighty shipping fleet, and Venice strove to protect its investment.
Today, Kotor's prime location attracts more visitors than plunderers. The breathtaking Bay of Kotor—often mistaken as a fjord, but actually a submerged river canyon—is perhaps the town's most alluring feature. Majestic green cliffs rise from its cobalt blue waters; its winding shores are rimmed with charming villages, many rooted in antiquity.
Experience Kotor with us on:
Perast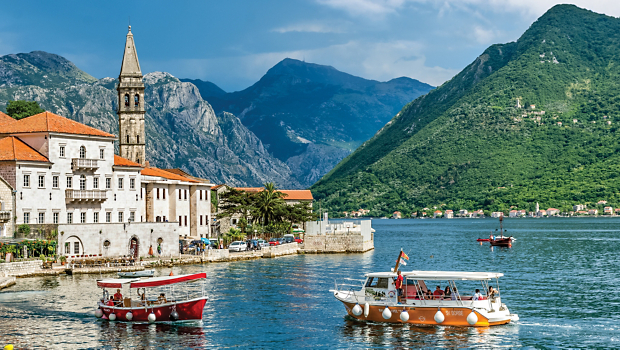 Situated on the Bay of Kotor, just northwest of the bustling town Kotor, is the small yet elegant village of Perast—looking for all the world like a little slice of Venice. The tiny town is home to only 400 or so people, but is packed with baroque palaces and churches leftover from bygone, grander days. While some of these buildings have been restored, others lay in charming ruins, overrun by bougainvillea and wild fig trees.
In the center of town, the 17th-century church of St. Nikola stands in a small square lined with lush date palms. The climb to its prominent bell tower rewards you with spectacular views of the bay.
Experience Perast with us on:
Cetinje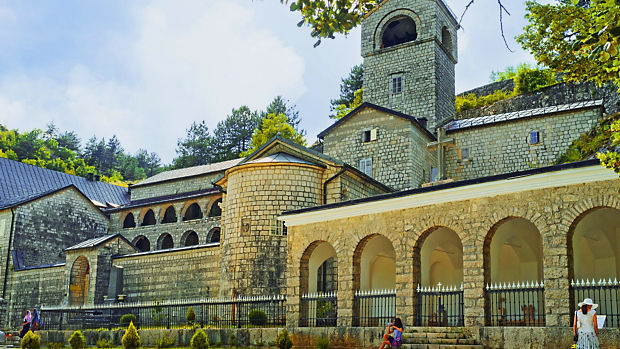 Montenegro's cultural heart and one-time capital is the city of Cetinje. Nestled at the foot of Mount Lovcen and encircled by steep hills, Cetinje is a mix of its current small town status and former royal glory—as simple one-story homes reside next to stately palaces. One of the city's most famous estates is the palace of King Nikola, a turn-of-the-century palace that today houses the Montenegrin crown jewels and a vast rare books library, as well as personal artifacts of the King.
Experience Cetinje with us on:
Our Lady of the Rocks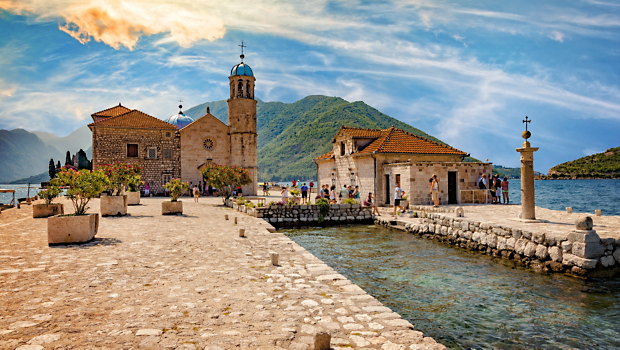 The Baroque Our Lady of the Rocks shrine stands proudly on a man-made islet in the middle of dazzling Kotor Bay. According to legend, the islet was formed by local fishermen who, after seeing an image of the Virgin Mary appear in the reef below, began dropping stones to mark the spot each time they sailed by. Over time, the rocks allegedly accumulated into the tiny island you see today. The shrine now contains 68 paintings by local 17th-century artist Tripo Kokolja, while its greatest treasure is the icon of Our Lady of the Rock, painted by the Dubrovnik artist Lovro Marinov Dobricevic.
Experience Our Lady of the Rocks with us on:
Featured Reading
Immerse yourself in Montenegro with this selection of articles, recipes, and more
ARTICLE
Find out why this area, the 33-mile jewel box of Montenegro, has been so coveted throughout the centuries.
Bay of Kotor
The 33-mile jewelbox of Montenegro
by Philip McCluskey
The Bay of Kotor's allure has resulted in more than 2,000 years of a sort of imperial musical chairs: a steady stream of invading armies that take over and are eventually replaced by the next great conqueror. And if you visit, it's easy to see why the area has been so coveted throughout the centuries.
Although generally referred to as Europe's southernmost fjord, the bay is technically a submerged river canyon in what is today southwestern Montenegro. Ringed by mountains that are reflected in its placid waters, with idyllic, terra cotta-roofed villages dotting its coastline, it can seem as if every nook of the Bay of Kotor is a postcard scene waiting to be photographed. Add its pleasant climate and strategic location along the Adriatic, and the region's allure is undeniable. So it's no surprise that a number of kingdoms sought to capture it through the years.
It is said the obstinate queen leaped to her death rather than submit to the vanquishers, adding to a legend that still survives in this part of the world today (a depiction of Teuta is on one of Albania's coins).
The Romans ruled for centuries, establishing what would be the seat of the region and the namesake for the bay itself—Kotor.
Kotor, bride of the Adriatic
A UNESCO World Heritage Site, the city of Kotor seems frozen in time. The reputation of this walled city, sheltered by the fjord-like bay, grew over time, eventually coming to be known as the "Bride of the Adriatic." In the Middle Ages, the schools of architecture and art here were well respected, and the city became a center of commercial activity and wealth.
The past was prologue, of course, and the success of the city of Kotor once again attracted some unwanted attention in the form of voracious empires. From the tenth century onward, the settlement was consecutively under Byzantine, Venetian, Hungarian, French, and Austrian control before becoming part of Yugoslavia. Due in part to the many visiting armies from around the region, there are several unique buildings in this fortified city—including the twelfth-century cathedral built in honor of Kotor's patron saint, St. Tryphon. Kotor remains one of the best-preserved medieval outposts in the Adriatic, yet it wasn't the bay's only region to celebrate success over the years.
Prosperous Perast
Known as the "Pearl of Venetian Baroque," the town of Perast flourished under the rule of La Serenissimas—or the ancient Serene Republic of Venice. Perast was situated in a strategic location near the Verige Strait; to many, it now feels as though a piece of Venice simply broke away and was placed in the middle of the bay. Perast is home to a number of churches and shrines; one of the most famous is Our Lady of the Rocks, which is found on the spot where some fishermen claim to have seen the Virgin Mary. Local lore holds that the fishermen dropped a stone in the same spot every time they passed, eventually creating the island on which the church rests.
Although this section of Europe is traditionally Eastern Orthodox, reminders of non-Orthodox religions are plentiful here. The Venetians and Austrians left behind their Catholic churches, and the Ottomans have left an Islamic legacy. This mixture of faiths has become an institution, and religious tolerance has become a hallmark not only of Kotor, but of the whole country of Montenegro.
Montenegro, Europe's newest country
After many centuries of suitors, the Bay of Kotor is now part of Europe's most recently independent country: Montenegro. Originally one of the six republics that made up Yugoslavia, Montenegro remained tied to Serbia once the Soviet Bloc began to disintegrate. In 2006, the country's independence from Serbia was put to a vote, and by a mere 2,300 votes, the citizens voted to become an independent state.
Though Montenegro is "new," its ancient roots add to its compelling character. The Bay of Kotor is a big part of that profile. In fact, the bay has become the country's most popular region—proving that even many centuries later, it can still draw a crowd.