The Leader in Enriching Cultural Experiences since 1958
You're receiving this message because your web browser
is no longer supported
We recommend upgrading your browser—simply click the button below and follow the instructions that will appear. Updating will allow you to accept Terms and Conditions, make online payments, read our itineraries, and view Dates and Prices.
To get the best experience on our website, please consider using:
Safari (for Mac or iPad Devices)
Update Browser

israel
Compare Trips
Find the Adventure That's Right for You
Our Activity Level rating system ranks adventures on a scale of 1 to 5 to help you determine if a trip is right for you. See the descriptions below for more information about the physical requirements associated with each rating.
Travelers should be able to climb 25 stairs consecutively, plus walk at least 1-2 miles over some uneven surfaces without difficulty. Walks typically last at least 1-2 hours at a time. Altitude can range from zero to 5,000 feet.
Activity Level 2:
Moderately Easy
Travelers should be able to climb 40 stairs consecutively, plus walk at least 2-3 miles over some uneven surfaces without difficulty. Walks typically last for at least 2-3 hours at a time. Altitude can range from zero to 5,000 feet.
Activity Level 3:
Moderate
Travelers should be able to climb 60 stairs consecutively, plus walk at least 3 miles over some steep slopes and loose or uneven surfaces without difficulty. Walks typically last for 3 or more hours at a time. Altitude can range from 5,000 to 7,000 feet.
Activity Level 4:
Moderately Strenuous
Travelers should be able to climb 80 stairs consecutively, plus walk at least 4 miles over some steep slopes and loose or uneven surfaces without difficulty. Walks typically last for 4 or more hours at a time. Altitude can range from 7,000 to 9,000 feet.
Activity Level 5:
Strenuous
Travelers should be able to climb 100 or more stairs consecutively, plus walk at least 8 miles over some steep slopes and loose or uneven surfaces without difficulty. Walks typically last for 4 or more hours at a time. Altitude can range from 10,000 feet or more.
Hide Acivity Level
PRICE
including international airfare
HIGHLIGHTS & ACTIVITIES IN ISRAEL
*This information is not available for our trip extensions. You must reserve the main trip to participate on this extension.
**This information is not currently available for this trip. Please check back soon.
Recommended Viewing
Watch this video showcasing what makes this country so unforgettable
ReelEarth: Welcome to Libbyland, Israel
Witness the life of a Haredi (ultra-orthodox) Jewish family in Kfar Chabad, Israel who invites millions of viewers into their home to see the balance of their traditional beliefs and surprisingly modern practices.
16:34
Recommended Videos
Watch your fellow travelers' favorite films & videos
Rosa and Mary's Israel Trip Experience
Follow good friends and long-time travel partners Rosa and Mary as they discover Israel and Jordan together for the first time—interacting with locals, donkey-riding through Petra, and learning about life in a local kibbutz along the way.
Jordan & Israel
Submitted by Nancy & Ed Garner, 24-time travelers from Coram, New York
Watch the fabled city of Petra and much more come to life in this slideshow of photos captured by O.A.T. travelers Nancy and Ed G.
Israel: Tel Aviv - Rocking Israel
Follow an adventurer on a musical tour of Tel Aviv and discover local musicians' reggae inspiration.
City of Soul
Embark on a whirlwind tour of the places and faces that can be found in the City of Soul—Jerusalem.
Israel: Voices from the Desert
Delve into Israel's music scene and meet with musicians from the Idan Raichel Project.
Israel: Month-by-Month
There are pros and cons to visiting a destination during any time of the year. Find out what you can expect during your ideal travel time, from weather and climate, to holidays, festivals, and more.
Israel in January-February
January and February experience cooler temperatures that can range anywhere from 40-60 degrees, with the coolest weather in the mountains. These months also have the most rainfall as the rainy season typically lasts from October to March. While the weather isn't ideal, you won't have to compete with tourists for views of the Western Wall and you won't have to fight your way through crowds in Masada as the country sees fewer tourists these months.
With little to no crowds and cooler temperatures, these are ideal conditions for hiking—Israel is known for having the most trails per square meter in the world. Enjoy exploring the lush oasis of golden cliffs and crystalline water at the Ein Gedi Nature Reserve without the crowds.
Holidays & Events
January 6: Orthodox Christmas
January 6: The Sea of Galilee Tiberias Marathon is an annual race that begins and ends in Tiberias
Must See
Although it's cold during January and February, this is one of the best times to enjoy the outdoor wonders of Israel. Clear conditions and relatively warm water (never dipping below 70 degrees), make this the best time to snorkel in the Red Sea. Dive to witness the rainbow beds of coral that come in nearly 100 varieties and to catch a glimpse of the 800 species of underwater wildlife, including turtles, whale sharks, and stingrays.
For avid bird watchers, keep your eyes peeled for wintering birds who migrate during these months—from pelicans to eagles and swallows.
Watch this film to discover more about Israel
Um Hashem's Story
Hear of a mother's fight to keep her daughter in school despite her father's wishes to marry her off.
Israel in March-April
The weather becomes noticeably warmer in March and April, where the coldest locations in the north, like Golan Heights, have temperatures averaging around 60 to 75 degrees. Southern Israel experiences very pleasant and warm weather along with a lot of sunshine as the rainy season comes to an end in April. As the weather warms up, tourists begin to flock to Israel—expect more crowds, especially during Holy Week.
People from all over the world make the journey to Israel around Easter and Passover for an unparalleled experience. In addition to the hordes of tourists, locals also have a two-week vacation, so expect very long lines, increased prices, and crowded streets and sights.
Holidays & Events
February or March: Purim is an annual Jewish festival, celebrated in March, features colorful costumes and detailed masquerade masks that evoke the lively spirit of Mardi Gras
March: The Jerusalem Arts Festival is a celebration of art, theater, and music in March
March or April: Easter; religious services and processions take place from Palm Sunday through Easter Sunday. Easter is mainly celebrated in Jerusalem when locals and Pilgrims fill the streets to walk in the footsteps of Jesus.
April: Passover is celebrated with Pilgrim festivals and the Seder (a ceremonial meal). During the week of Passover, those observing the holiday give up foods containing yeast—stores even take yeast-based products off their shelves.
Must See
As a result of the rainy season, spring blooms with colorful wildflowers. The anemone, cyclamen, and lupine—known in Hebrew as the kalanit, rakefet, and the tourmus—are just a few of the vibrant florals that you can expect to see in March and April.
Watch this film to discover more about Israel
Um Hashem's Story
Hear of a mother's fight to keep her daughter in school despite her father's wishes to marry her off.
Israel in May-June
Pleasant weather, no crowds, and little to no rain make May the best time of the year to explore Israel. Not to mention, Israel comes to life with festivals and celebrations in May and June—from Israel's Independence Day to Shavuot. Israel's Independence Day is on the fifth day of the month of Iyar, which follows the Jewish calendar and is typically celebrated in either April or May. But before Israel celebrates Independence Day, locals commemorate the soldiers that fought to achieve the State of Israel with their own Memorial Day, which also follows the Israeli calendar.

Shavuot is considered to be a religious and agricultural celebration in Israel. The religious holiday is celebrated for one day, usually in May and commemorates the gifting of the Torah from God to the Jewish people. Shavuot is also celebrated as an agricultural festival that marks the start of the harvest season.
Holidays & Events
April or May: Israel's Independence Day is typically celebrated in May depending on the Jewish calendar
May: The EAT Festival showcases local restaurants and traditional cuisine
June: The Israel Festival is an annual celebration of local dance, music, and theater
June 30: White Night is an all-night festivity in Tel Aviv's White City, a UNESCO World Heritage Site. This event displays Israel's unique culture in a variety of mediums, including concerts and street parties
Must See
A truly one-of-a-kind event is the Negev Desert festival. Similar to the Burning Man festival in Nevada, this Israeli event takes place in the desert over the course of six days and fosters community and creativity. If there is any time to attend a festival of this kind, it's in May as the desert temperatures aren't too hot and rare rainfall won't hinder your experience.
Watch this film to discover more about Israel
Um Hashem's Story
Hear of a mother's fight to keep her daughter in school despite her father's wishes to marry her off.
Israel in July-August
Summer in Israel's arid climate brings dramatic temperature increases, little to no rain, and high humidity. If you are exploring the desert these months, be sure to stock up on sunscreen and water as the sweltering heat hits the hardest in the desert. While summer ushers in extreme heat, it is the perfect time to cruise Lake Kinneret and take advantage of the beach, although you can expect large crowds as July and August mark peak tourist season.
Holidays & Events
August: The Red Sea Jazz Festival is an annual celebration of local jazz acts that has been held in Eilat since 1987
Must See
If you find yourself looking for a highly unique experience, the annual Festival of Light in Jerusalem is held at the very end of June and continues through the beginning of July. Follow a path through the heart of the city to witness light installations and detailed works of art. Pass the Church of the Holy Sepulchre and walk through Jerusalem's Jewish Quarter, two sites that you'll witness during the day and now you can experience at night if you choose to participate in this festival.
Watch this film to discover more about Israel
Um Hashem's Story
Hear of a mother's fight to keep her daughter in school despite her father's wishes to marry her off.
Israel in September-October
September is an ideal time to visit Israel when the temperatures cool down and crowds start to dissipate. Cool off and escape the summer heat with a visit to the lowest place on Earth. Float effortlessly in the mineral-rich waters of the Dead Sea and experience the world's saltiest body of water firsthand. Although the weather is pleasant and you'll beat the crowds in September, be aware that during the holy holiday of Yom Kipur, Israel's streets clear up completely of people and cars, and bars and restaurants close down to observe this holiday. October provides a stark contrast to September as large crowds descend on Israel to celebrate Sukkot, a week-long holiday that honors the protection of the Israelites.
Holidays & Events
September or October: Rosh Hashanah celebrates the Jewish New Year
September or October: Yom Kipur is the holiest day of the year in Judaism and means

"Day of Atonement"
Must See
Get an intimate and authentic view of Israel in September when the country celebrates two major holidays—Rosh Hashanah and Yom Kipur. During these holidays, restaurants and businesses will close. Rosh Hashanah is the quieter of the two holidays as most locals attend synagogue services and enjoy meals with friends and families. You may want to stop into a synagogue to get a truly whole picture of how this Rosh Hashanah is celebrated by locals. Following Rosh Hashanah is Yom Kipur, a holiday that is spent praying during synagogue services during the day and then followed by lively festivities—locals sing in the streets and after a day of fasting, the conclusion of this holiday is celebrated with large meals.
Watch this film to discover more about Israel
Um Hashem's Story
Hear of a mother's fight to keep her daughter in school despite her father's wishes to marry her off.
Israel in November-December
November marks the last of the pleasant weather, but as a result of little to no rainfall in the summer, the land is arid and not as lush. A significant cool down occurs in December and along with the cooler weather comes rainfall. Expect less sunshine and more overcast and cloudy days in December as well.
Although the weather isn't ideal in November and December, little to no crowds and mild temperatures are perfect for exploring the Machaneh Yehuda, one of the oldest neighborhoods in Jerusalem, and visiting the 4000-year-old city of Jaffa.
Holidays & Events
December 25: Christmas Day
December: Hanukkah
Must See
Locals like to take advantage of November's pleasant weather by holding the Hula Valley Bird Festival. Explore Agamon Park, Hula Nature Reserve, and Golan to to catch glimpses of native desert birds.
Looking to escape the cool weather in December? Throughout December, museums, theaters, concert halls, galleries, and more offer free admission and restaurants have special offers as part of Hamshushalayim, a combination of the Hebrew words for Thursday, Friday, Saturday, and Jerusalem. Hamshushalayim is a celebration of Jerusalem's art and culture.
To get a true sense of the holiday season, Israel has a variety of festivals and shows for those celebrating Christmas and/or Hanukkah. In Jerusalem, Christmas festivals fill the streets with people waiting to get a glimpse of Santa, sample traditional holiday treats, and find their perfect Christmas Tree. Hanukkah celebrations tend to be less busy as the main event of the holiday is lighting the menorah. Public menorahs are lit throughout Israel while locals pray and sing before savoring a hearty meal.
Watch this film to discover more about Israel
Um Hashem's Story
Hear of a mother's fight to keep her daughter in school despite her father's wishes to marry her off.
Average Monthly Temperatures
Israel Interactive Map
Click on map markers
below to view information about top Israel experiences
Click here to zoom in and out of this map
Tel Aviv
Tel Aviv—which means "hill of spring"—is one of the modern jewels of the Middle East. The city was founded in 1909 by Jewish settlers who wanted to establish a strictly Jewish, European-style neighborhood in Jaffa, a district in Tel Aviv with a large Arab population.
The White City, a collection of approximately 4,000 buildings constructed in the 1930s and 1940s, was designed in the modernist Bauhaus style—simplistic and functional—which sets it apart from the rest of the city. Wide sidewalks and shade trees line many of the streets, and one can easily get around in Tel Aviv on bicycle or motorbike.
Tel Aviv is also known for its nightlife—it's widely considered to have a "24-hour culture" that rivals any modern city. The population of Tel Aviv is by some estimates a quarter LGBTQ (Lesbian, Gay, Bisexual, Transgender, Queer), and hosts an annual Pride Parade in June. Because of the city's receptiveness to LGBTQ people, Tel Aviv is considered the most socially liberal part of the entire Middle East.
Experience Tel Aviv with us on:
Haifa
On the slopes of Mount Carmel, Haifa slips down gradually into the Mediterranean Sea. Rolling hills and expansive beaches mark the landscape of Haifa. The city is situated in three tiers, with the lowest near the beach for business and industry, the second tier for older residential neighborhoods, and the top tier a collection of modern residences overlooking the entire valley.
After the declaration of Israel as an internationally-recognized state in 1948, Haifa was the gateway in which many Jews from around the world entered the country. Haifa is also widely considered a model of coexistence between Israelis Jews and Palestinians. Haifa is also home to several other religious traditions, including the 19th-century religion Bahá'í. The Bahá'í World Centre—a UNESCO World Heritage Site—is the religious center for the Bahá'í faith, located in the northern part of the city. Small communities of Druze and Ahmadi people also live in Haifa.
Historically, Haifa was the center for the production of tekhelet, an ancient purple or blue dye used for patterns on the clothing of high priests and royalty. Made from the mucus of the hexaplex trunculus species of snail, tekhelet was extremely, prohibitively expensive and incredibly hard to make.
Haifa is one of Israel's technology centers, and the Matam district is the industry's oldest business park in Israel. Microsoft, Motorola, Google, and other major technology companies all have facilities in Haifa.
Med Breaks - Haifa
Follow locals to the beach to catch some waves in Haifa where the surf industry is growing.
Experience Haifa with us on:
Jerusalem
Ensconced in the West Bank of the Jordan River, Jerusalem is the seat of power in Israel as well as a holy city. Evidence of human settlements date back to nearly 4000 BC, and it is one of the oldest cities in the world.
Jerusalem is separated into three distinct districts. Behind walls rebuilt by the Ottomans in the 16th century, the Old City contains holy sites for Judaism, Christianity, and Islam. The Temple Mount, the Western Wall, and the Church of the Holy Sepulchre all call Jerusalem home. During the day bustling markets filled with all kinds of goods—depending on whether in the Jewish, Muslim, Christian, or Armenian quarter—fill the air.
The New City—which is predominantly Jewish—is in the western part of the city. The New City is also where one can see modern Jerusalem, whether in the buzzing modern pedestrian mall in Ben Yehuda, or the wide avenues of Mercaz Ha'ir. Yet, in whatever part of Jerusalem you find yourself in, the centuries-old stone buildings and multitude of cultures and traditions will inspire awe.
City of Soul
Embark on a whirlwind tour of the places and faces that can be found in the City of Soul—Jerusalem.
Experience Jerusalem with us on:
Sea of Galilee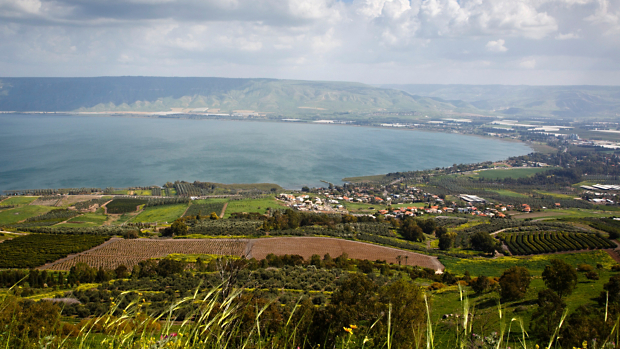 As the largest freshwater lake in Israel, the Sea of Galilee is the country's most important source for drinking water. Located in the north by the borders of Syria and Jordan, this lake was the site of major events in the Christian religious tradition as well as Jewish history. Also known as Kenneret—meaning "violin" in Hebrew— the Sea of Galilee is known as the site where Jesus is said to have walked on water, and delivered his Sermon on the Mount, perhaps his most well-known address.
Situated on the lake's western shore, the city of Tiberias for a time was a major center of Jewish learning and study after Jews were banned from Jerusalem by the Romans in AD 135. Tiberias is also the location of the first kibbutz, a Jewish farming collective, established in 1909.
Capernaum, another ancient settlement, is an abandoned Roman fishing village on the northern shore of the Sea of Galilee left empty after the Crusades during the eleventh century.
Experience the Sea of Galilee with us on:
Masada
Atop a plateau overlooking the Dead Sea, the massive fortress of Masada—the name "Masada" means fortress—is one of the major sites of Roman-Jewish conflict during the Jewish Rebellion in the first century.
Built by Herod the Great in about 35 BC , Masada is the mythical site—according to Roman Jewish historian Josephus—of a 35-year siege between Jewish rebels and the Roman Empire during the first Jewish-Roman War. Legend describes how instead of being captured, 960 rebels committed mass suicide. Today, Masada is the place where new Israeli soldiers are sworn in, symbolically chanting "Masada Will Never Fall Again." The site was declared a UNESCO World Heritage Site in 2001.
Masada
Venture to Masada's stone fortress to discover the ancient site's epic history.
Experience Masada with us on:
Featured Reading
Immerse yourself in Israel with this selection of articles, recipes, and more
ARTICLE
Piece together the meaning and history of Jerusalem's mosaics with O.A.T. Trip Experience Leader Khalil Shreim.
ARTICLE
See Israel from the eyes of a local—O.A.T Trip Experience Leader Gabriella Landau.
ARTICLE
Discover how Israel came close to creating a Utopian society.
Jerusalem: A Living Mosaic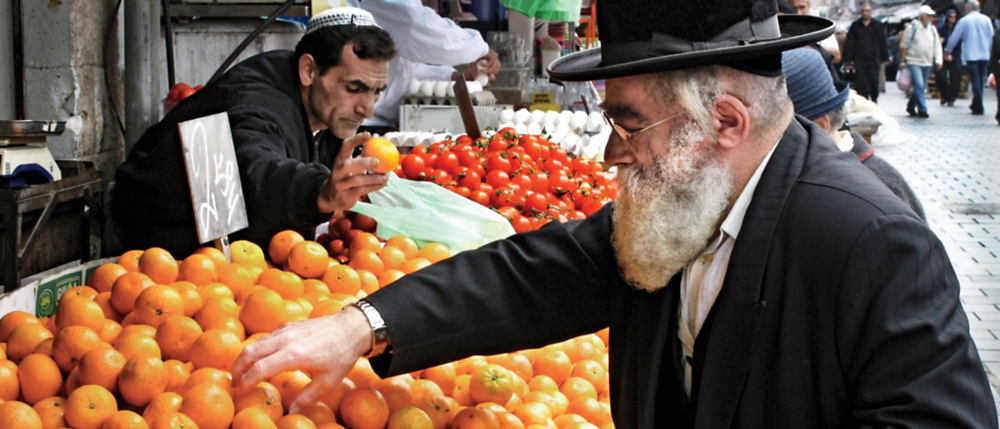 How Israel's capital became a cultural composite
by Sukie Reyes
Together they make the whole picture. That is Jerusalem—a mosaic of people.
O.A.T. Trip Experience Leader Khalil Shreim, a slender man with a gentle smile and sparkling eyes, knows that his home town is complex. That's why he likes to show visitors some of the preserved Byzantine mosaics in Jerusalem during the O.A.T. Israel travel experience. "'Look at the stones,' I say. 'See how they are made of different colors and materials, yet together they make the whole picture. That is Jerusalem—a mosaic of people.'"
Time and tile
It is fitting that Khalil uses mosaics for a metaphor. Among the greatest treasures of the Middle East are mosaics which have survived intact for as long as 1,600 years under the successive Byzantine and Islamic Umayyad empires. As bloody conflicts played out on the region thereafter, many of these mosaics were lost, but those that remain reveal a glimpse of an era of artistry.
Interestingly, the mosaic most associated with Jerusalem was actually found in Jordan, covering the floor of an ancient church in Medaba. Known as the "Medaba Map," this sixth-century mosaic is a detailed city map as seen from above. The oldest remaining floor map on earth, it showed the location of Jerusalem city highlights that had been referenced in the Bible and Jewish oral tradition, but which had not yet been verified by the 19th century. One of its most tantalizing details was an image of a broad thoroughfare, the Cardo Maximus, running through the center of Jerusalem—a road of which there was no remaining evidence. Because working city streets and Jewish Quarter neighborhoods existed atop the location where the Cardo appears on the map, Israel was reluctant to dig there, even for archaeological study.
But in 1975, while the Israel Antiquities Authority was working on the infrastructure of the busy King David thoroughfare, excavators discovered the ancient Cardo some 15-20 feet below the current street. Large flagstones, each more than a yard long—laid side by side and end to end—stretched across the center of the city, providing evidence of a route that once bustled with pilgrims, traders, and citizens. Today, you can stroll and shop along that route, some of it above ground and some below. To walk across these ancient flagstones today feels like time travel.
Beyond "old"
While the era of those mosaic artists seems long ago—especially if your country is less than 300 years old—Jerusalem was already several thousand years old by then. It was a tiny settlement at first, a few blocks surrounded by forests, almond trees, and olive groves, but it beckoned travelers, seekers, and kings alike. By the dawn of the Common Era, Jerusalem had already been occupied in succession by the Babylonians and the Greeks. A cavalcade of occupiers followed: Romans, Arab Muslims, Crusaders, Sunni Muslim Abuyyids, Germans, Tatars, Mamluk sultans, Ottomans, and finally the British—the last foreign power to try to claim the land for itself. With so many eras leaving competing cultural legacies, the city remains an assemblage of disparate influences.
One city, many faiths
For many, the most important of these influences are spiritual. For Jews, the Western Wall and Temple Mount, where the First and Second Temples were located, are the holiest sites of their faith—in synagogues all over the world, Arks of the Covenant are positioned to face this sacred city.
For Christians, the last night of Christ's life is said to have been spent here, praying in the Garden of Gethsemane, at the foot of the Mount of Olives, and then making the final walk up the Via Dolorosa to Golgotha Hill, where he was crucified.
And for Muslims, the Dome of the Rock encompasses not only the story of Ibrahim and the near-sacrifice of his son but the night the prophet Mohammed left earth for heaven.
Spiritual diversity is so profound here that more days of the week than not are considered holy to at least one faith: The Druze Sabbath begins on Thursday night, while Muslims celebrate Friday as their day of rest, with Jewish Sabbath following from Friday sundown till Saturday sundown, and Christians ending the week with their holy day on Sunday.
Where cultures meet
With its dominant religious traditions cherished by more than half of the world's population, Jerusalem was—and continues to be—a magnet for travelers. For Khalil, this determined the course of his life. "I was born and raised in Jerusalem's Old City, so when I went from home to school, I met travelers. When I was 9, a couple from Sao Paolo asked me where the Via Dolorosa was. I said, 'I know that street. I'll show you.' I led them around, talking in a mix of Hebrew, English, and Arabic, and they were so happy with me that when a 20-year-old tour guide tried to take over, they said, 'No!' They just wanted me."
They paid Khalil handsomely, though he at first refused and had to be convinced to take the money, a transaction observed by the local priest. When his parents saw the money, they did not believe that he had come by it honestly, and it was only when Khalil dragged his father to the priest—who confirmed the story—that his father believed him. Khalil has been showing people around his beloved city ever since.
That story reveals something important about Jerusalem. That a Christian priest calmed down the Palestinian father of a boy leading tours in the holiest city of the Jewish faith reveals the truth of Khalil's earlier comment: Jerusalem is a mosaic of people.
A city for our time
Khalil has watched Jerusalem change, from the cozy walled Old City of his childhood to a sprawling metropolis, and he knows his own children will witness even more evolutions. The father of four can't guess precisely what the future will look like for them in the fascinating mosaic they call home, but he is certain of one thing: The city's appeal will never dim. "It is Jerusalem," he says fondly, smiling. "Everybody comes here eventually."
Israel: A Country with Purpose
by Gabriella "Gabi" Landau, O.A.T. Trip Experience Leader, from Dispatches
Israel doesn't have stunning water falls or lush green forests. Nor does it have a wide variety of wildlife or magnificent castles from the Middle Ages. The size of Israel is about half of the size of Lake Michigan, and its population is only half the size of metro New York City.
What makes Israel travel so unique and intriguing then? What draws more media crews to Israel at any given moment than any other place on the planet? Why is it that millions of people worldwide consider Jerusalem the center of the world?
In order to answer these questions, I invite you to join me on the journey of my life story, and to view Israel from my personal point of view—which I have developed throughout many years of guiding Christians, Jews, and Muslims along the ancient paths of kings, prophets, conquerors, pilgrims, pioneers, and warriors.
A "typical Israeli family"
My name is Gabriella Landau. I was born in Israel in 1955, only seven years after the establishment of the young state, which, after 2,000 years of being spread throughout the world like tumbleweed, brought the Jewish people back to their land, the Land of the Bible. My father was born in Jerusalem and my mother escaped from Nazi Germany when she was eight years old. I am married to Alberto, an Argentinian man who immigrated to Israel when he was 19, as part of a group of young pioneers to build a kibbutz. We have two sons who have finished their compulsory military service and are now students in their late 20s.
We are a typical Israeli family. A melting pot of cultures with a strong affiliation to the Land of the Bible, a wide knowledge of its ancient history, and great respect to its spiritual importance to millions of people all over the world.
The children of Israel learn the stories of the Old Testament from a young age. They celebrate the Jewish holidays based on biblical stories, and walk in the footsteps of kings, judges, and prophets. After not being spoken for centuries, Hebrew is the only case of a dead national language being revived in all of world history. Today, it is the native tongue of more than eight million people.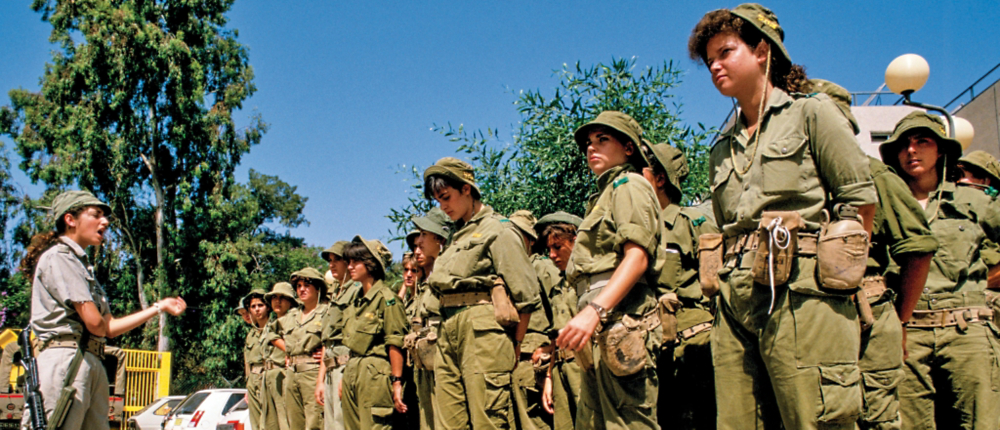 Young Israeli soldiers study the history and heritage of the Jewish people in every place where they are being trained. I served five years in the Israeli army and finished my service as a captain in the paratroopers' force. Part of my service was to escort soldiers in the field and teach them history, archaeology, and Biblical significance as the heritage of the people who they are defending.
Small in size, immense in significance
Geographically, Israel is a bridge between continents; it was the only gateway in ancient times to connect Europe with the East, and vice versa. Emperors of long gone civilizations—the Canaanites,
Egyptians, Babylonians, Greeks, Romans, Muslims, Crusaders, Mamelukes, Turks, and many others—did everything they could to control this strategic piece of land, which represents only one-sixth of 1% of the landmass of the Middle East. In the ancient town of Megiddo (which some identify as Armageddon), we find more than 20 levels of different civilizations going back 4,000 years.
There is only one Land of the Bible, and that alone makes this country special. People come to Israel to connect with their God. It is not necessarily the holy sites they are visiting; it is the spiritual journey that they make. The holiness of the Holy Land for the three monotheistic religions is unquestionable.
For the Christians, it is the land where Jesus was born, grew up, and started his ministry. In Jerusalem he was crucified, buried, and resurrected. Recently I participated in the Greek Orthodox Easter ceremony of fire at the Church of the Holy Sepulchre in Jerusalem. Thousands of pilgrims from Greece, Russia, Romania, Egypt, Macedonia, and Ethiopia were in ecstasy when the Holy Fire came out from Jesus' tomb to announce the beginning of resurrection. Another time I witnessed a mass baptism in the Jordan River for people who'd been praying to get there all their life.
For the Muslims, the Dome of the Rock in Jerusalem is where Muhammad ascended to heaven on a mythological horse, Al Buraq, after praying where the Al Aqsa mosque stands today. This mosque is the third holiest place for Muslims, after Mecca and Medina in Saudi Arabia.
Twenty percent of Israel's 8.3 million citizens are Arabs. Most of them are Muslims, but there are also many Christians. (As a matter of fact, Israel is the only country in the Middle East where the Christian population has grown over the last 50 years.) The Arab citizens are exempt from the duty of military service, but they can volunteer. Men of the Druze minority religion do serve in the Israeli army, and are known to be very good fighters.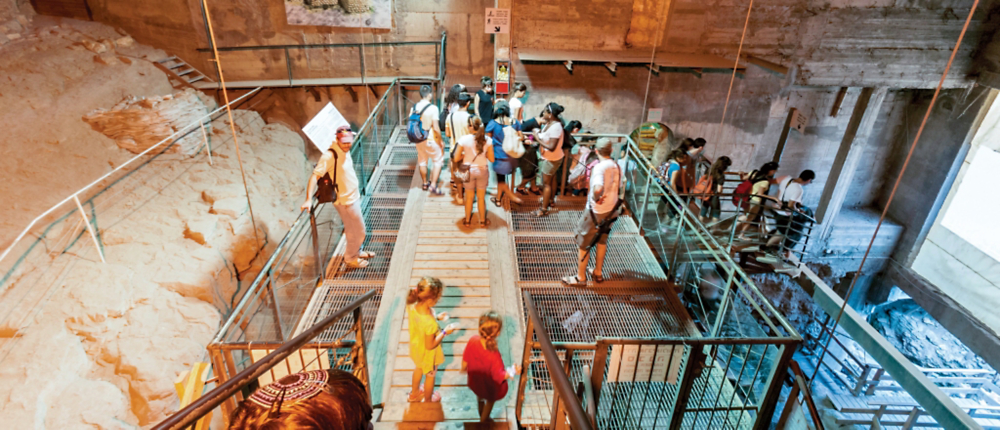 The Dome of the Rock and the Al Aqsa mosque stand on Mt. Moriah. This is the holiest place for the Jewish people, where both the First and Second Temple once stood. The only remnant of the destroyed temples is the western retaining wall—now known as the Western Wall—of the temple that Herod the Great built 2,000 years ago. This is why for centuries the Jewish people called it the Wailing Wall, longing to go back and build the Third Temple when the Messiah arrives. Only after 1967, after the Six-Day War, did Israel return to the Old City in Jerusalem to conduct archaeological digs around the Temple Mount. Since then, we've found a lot of fascinating evidence about the life of the Jewish people from the times of King David 3,000 years ago. The plaza in front of the Western Wall is the place where many Israeli soldiers swear their loyalty to their state. In a very emotional ceremony they receive their personal weapon and a Bible. The Bible and the weapon go together.
Looking to the future
The Israelis feel that they have returned to the Promised Land. The only democracy in the Middle East is prosperous and vital. As children, we used to put small coins in little Jewish National Fund boxes to contribute to the effort of developing the country and covering the arid hills with trees.
Having to enter a military confrontation every few years with millions of Arabs, who simply don't want us here, emphasizes the importance of life. There is a strong feeling of solidarity in the Israeli society. People have goals. Every day has a meaning here in our gem of the western and modern world, our kaleidoscope of cultures, history, religions, and ethnic groups.
The Israelis are known for having many children. The average number of children to a non-religious family is three. Among the Orthodox religious families it is nine. The need to survive and ensure a promising future for all these children puts Israel at the forefront of pioneering and innovation in almost every aspect of life.
Israel has the largest number of startup companies per capita in the world, and the largest number of NASDAQ-listed companies outside the U.S. and Canada. In the 80s, IBM chose an Israeli-designed computer chip as the brains for its first personal computer. Israel's dairy cows are the most productive in the world. They average 25,432 gallons of milk per cow per year, compared to just 18,747 gallons from American cows and 13,778 from European cows. The kibbutz way of life, which went through changes to adjust to modern needs, is still one of the most productive and unique ways of life in Israel.
Many people feel that Israel is an unsafe place to travel to. This, of course, is fed by the media, which portrays violence and conflict as the only reality. The hundreds of travelers whom I've guided in my seven years with O.A.T. will be happy to tell you that they never felt safer. The streets and coffee shops of Tel Aviv are bustling with young people. There are no soldiers with machine guns in the airport, and the market places are a celebration of flavors, sounds, colors, and scents. A woman can stroll on her own in the streets in the evening without being afraid to be mugged or harassed. Children play in the street squares and walk home from school on their own.
In many ways I feel that Israel is a place that touches everybody's heart. It belongs to everybody. Almost every culture that ever lived on this planet left its imprint here.
I invite you to visit us and enjoy a unique life-changing experience.
Making the Desert Bloom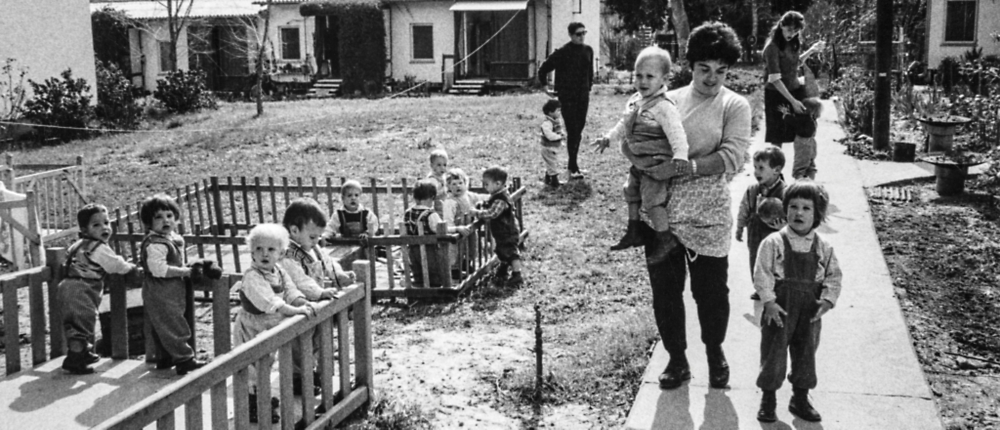 The rise of kibbutzim in Israel
by Laura Chavanne, from Dispatches
Imagine a society in which all members are treated as equals—free from want, need, and the hierarchies that naturally stem from the pursuit of wealth and power. Not even gender roles apply here, and both men and women share every job to ensure the community's sustainability. From food and housing to education and recreation, every individual is taken care of … for life.
It may sound like a utopian fantasy, but in Israel, it happened … and for a time, it even worked. More than 100,000 Israelis still reside in communities known as kibbutzim—and while the ideals have changed in modern times, the movement that created them embodied the essence of cooperation. It may not have been utopia, but for those who experienced the kibbutz lifestyle at its best, it probably seemed close.
Arrival in the Holy Land
For the Jewish people, the concept of aliyah—the return (literally, "ascent") to the Holy Land—has roots in Biblical times. Yet the waves of immigration officially categorized as Zionist aliyah began in the late 19th century. Some came to Israel purely to fulfill Zionist ideals—but many did so to escape increasingly widespread persecution. Such was the case for those who emigrated, predominantly from Russia, between 1904 and 1914 during the period known as the Second Aliyah.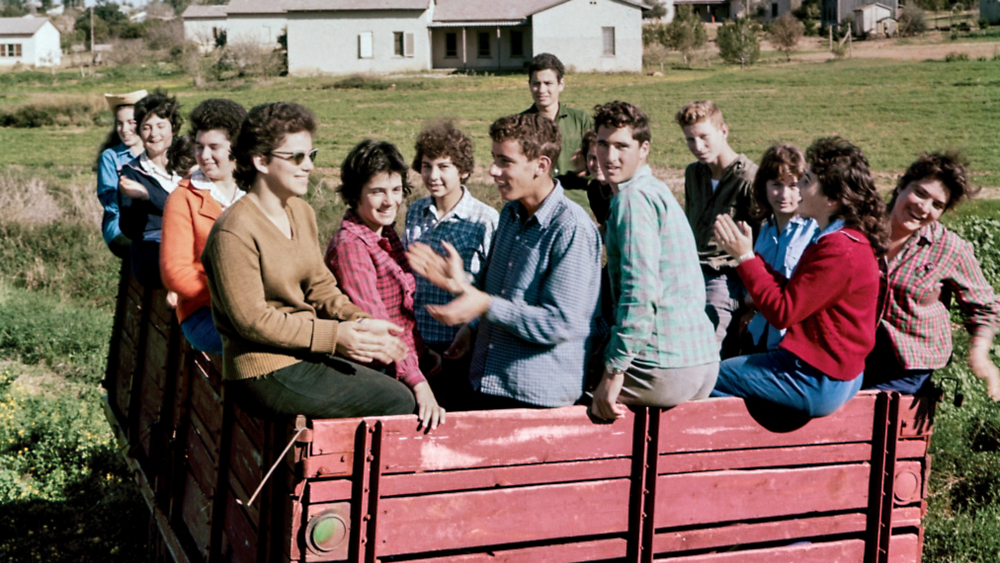 The pioneers who arrived in Palestine, then under Ottoman rule, found little in terms of industry and economic opportunity. As a result, they worked the land—which was no small feat. In fact, anti-Zionists in Europe referred to the arid expanse of Palestine as dos gepeigerte land: "the country that had died." Zionist supporters, on the other hand, prided themselves on "making the desert bloom."
Of course, this was easier said than done. Now faced with a challenge akin to drawing blood from a stone, the settlers—few of whom had prior farming experience—came to the realization that they simply couldn't make it on their own. Working together, however, they might just have a chance. In 1909, the first collective farm was born on the banks of the Sea of Galilee.
For the group who founded it, the work was backbreaking—and the challenges of desolate land, scarce water, meager funds, and sheer inexperience with physical labor proved too great to overcome. The original group dispersed after a year. In 1910, however, a new group of ten men and two women leased the same land … with intentions far loftier than merely farming. They were there to start a movement.
A new way of life
They called it Kvutzat Degania, or "Collective of Wheat," and they strived to create a self-contained, sustainable society based on democracy and absolute equality. Each member shared the work, administration, and ownership of the land. By 1914, twelve members had grown to 50, and more kibbutzim began cropping up around the Sea of Galilee. The fall of the Ottoman Empire at the close of World War I made it even easier for Jews to purchase land in Palestine. In 1917, the Balfour Declaration publicly stated Britain's support of "a national home for the Jewish people in Palestine." This, combined with rising anti-Semitism in Europe, prompted a new wave of immigration—the Third Aliyah—in the early 1920s. By 1922, 700 people lived on kibbutzim—and the number grew steadily to 24,000 by the onset of World War II.
As the movement grew, so did the variety of kibbutzim. Some were secular, some religious, and some had an especially strong focus on agriculture or gender equality. Still, they all shared the same basic principles—and unique way of life. Personal property was discouraged, even in the form of gifts from relatives outside the kibbutz. Both work and social activities were contained within the compound, and meals were always taken together in the communal dining hall. Rotation of jobs ensured that members shared ownership of every task, down to the most menial.
In these early years, perhaps most foreign and fascinating to those outside the kibbutz was the ideology around gender roles—particularly when it came to parenting. The concept of pure gender equality extended from the fields into the home. After all, what role could be more stereotypically feminine than that of housewife and mother? Just as the laundry and cooking were communal, so, too, was the rearing of children. Children lived in designated "children's houses," spending time with their parents for just a few hours each day. And while children did form close bonds with their parents, they did so with one another as well. In fact, studies have found marriage rates amongst those born on kibbutzim to be extremely low—because even though the children were unrelated, they viewed each other as siblings after being raised so closely from such a young age.
Not that kibbutzim encouraged marriage in the early years. By shunning wedlock, women also shunned the idea that their survival depended upon a man. If a couple did wish to be wed, they did so by simply requesting a room together. They never used the traditional Hebrew word for spouse—ba'al—because it translates directly to "master."
Progressive though this seems, critics still claim that kibbutzim never completely abandoned traditional gender roles. Yes, women performed "masculine" tasks like plowing and guard duty—but they did most of the cooking and cleaning as well. The women may have been masculinized, but the men weren't similarly feminized to meet them in the middle.
Defending a fledgling state
At first blush, it's understandable to equate aspects of kibbutzim with the "free love" spirit of American hippie communes—but the similarities only go so far. Rather than making love, not war, kibbutz members played an active role in the fledgling Israeli military.
In the 1920s, as waves of Jewish settlers arrived in increasing numbers, Arab-Jewish violence was also on the rise. Kibbutz sites were chosen for strategic purposes—both to create a line of defense, and to further establish Jewish strongholds in remote parts of the state. Although the British had control over the region, settlers did not trust that their administrators would adequately protect them against Arab attack. Underground paramilitary units—collectively known as the Haganah—began cropping up, initially in an informal fashion; kibbutz members purchased guns and learned to use them, but their role didn't extend beyond that of farmers protecting their homes and fields.
In 1929, however, this changed. Hundreds were killed on both sides of the conflict in riots over control of the Western Wall. The underground militia became more organized, incorporating thousands of youths from both kibbutzim and cities. The remote locations of some kibbutzim were perfect for stashing secret weapon caches, purchased illegally in Europe. When tensions came to a head in the Arab-Israeli War of 1948, kibbutzim were on the front lines.
This tumultuous time left a lasting legacy. After the state of Israel won independence, the Haganah became the foundation for the Israeli Defense Force. And a clandestine munitions factory on Kibbutz Magan Michael grew into the still-thriving Israel Military Industries.
Rise, collapse, and rebirth
The decades following Israel's independence ushered in a brief golden age for kibbutzim. Not only were they still integral to military defense, but kibbutz members also held prominent roles in the Israeli parliament. As Israel on the whole began to industrialize, so, too, did kibbutzim—because agriculture alone could longer adequately sustain them. In 1962, the Kibbutz Industry Association was established to support industrial enterprises—which today include everything from machinery and electronics to furniture and textiles. Until the 1970s, the quality of life on a kibbutz was arguably better than that in Israeli cities.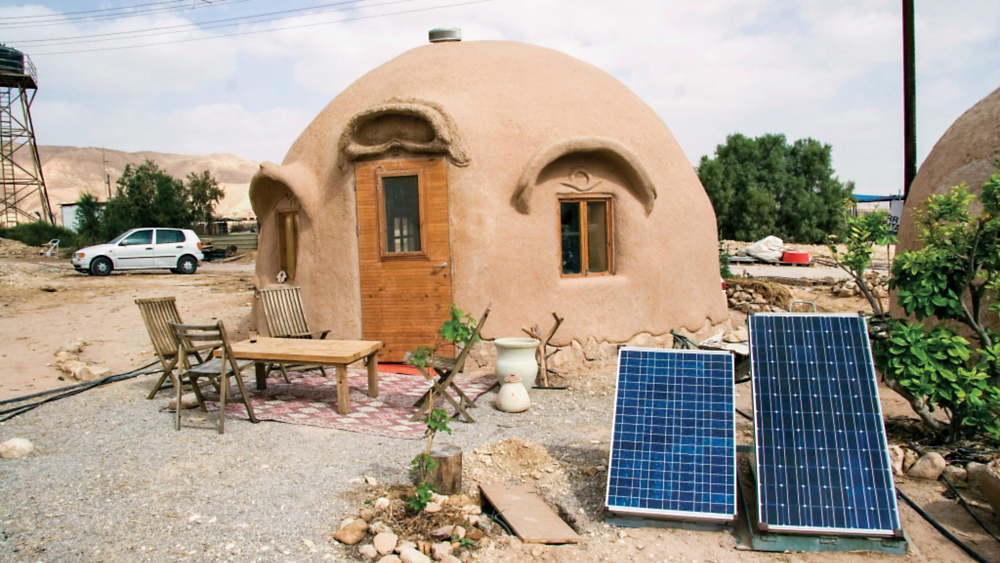 There was, of course, a fundamental difference: on a kibbutz, wealth could only grow so much. When televisions began popping up on kibbutzim, members had a window on the wider world. This exposure led to desire … which in turn led to dissatisfaction.
In addition, many kibbutzim had accumulated substantial debts and were unable to repay—a crisis that came to a head in the 1980s. Eventually, kibbutz leadership reached an agreement with Israeli banks and the Ministry of Finance—but while this alleviated some of the debt, it also demanded considerable repayment. As a result, many became disillusioned, and abandoned kibbutzim in the 1990s.
While the story of the kibbutz could easily have ended here, the movement chose instead to evolve. While today's kibbutzim may not resemble the utopian enclaves of yore, they still strive to maintain the original ideals while adapting to the modern world. Most, for example, have adopted differential pay, and many members take jobs either outside the kibbutz or in regional kibbutz enterprises. The commercial aspects of kibbutzim have become much more individualistic.
When it comes to community, however, the old ideals still live on—even if "children's houses" have given way to a traditional family structure. From the strongest to the weakest, kibbutz members all enjoy security in terms of health care, welfare, and education. Communal meals are still an important part of kibbutz life—a time to connect and plan future activities. Holidays are celebrated together. For those seeking a way to embrace their Jewish identity—not to mention solidarity, a safety net, and a sense of belonging—the desert still blooms with possibility.