The Leader in Enriching Cultural Experiences since 1958
You're receiving this message because your web browser
is no longer supported
We recommend upgrading your browser—simply click the button below and follow the instructions that will appear. Updating will allow you to accept Terms and Conditions, make online payments, read our itineraries, and view Dates and Prices.
To get the best experience on our website, please consider using:
Safari (for Mac or iPad Devices)
Update Browser
australia
Compare Our Trips
View Itinerary Video
From the koalas and kangaroos of Cairns to picturesque Milford Sound, experience fascinating Australia and New Zealand.
19 DAYS FROM $5,495 • $ 290 / DAY
Land Tour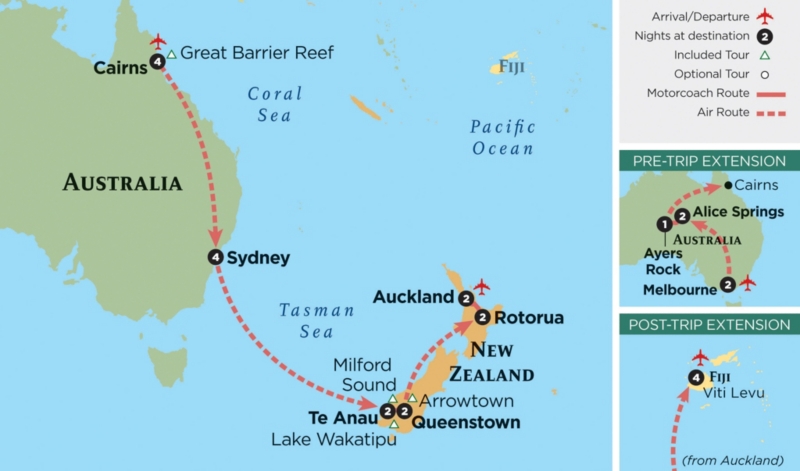 Australia: Cairns, Great Barrier Reef, Sydney | New Zealand: Te Anau, Arrowtown, Queenstown, Rotorua, Auckland
31 meals: 16 breakfasts, 6 lunches, and 9 dinners (including 1 Home-Hosted Dinner)
Get close to koalas and other iconic critters during a visit to a wildlife park
Explore the sights of Sydney, including the stunning harbor and iconic opera house
Swim among the coral of the Great Barrier Reef and search for fascinating marine life
Enjoy a bird's-eye view of the Queensland countryside on an optional hot air balloon ride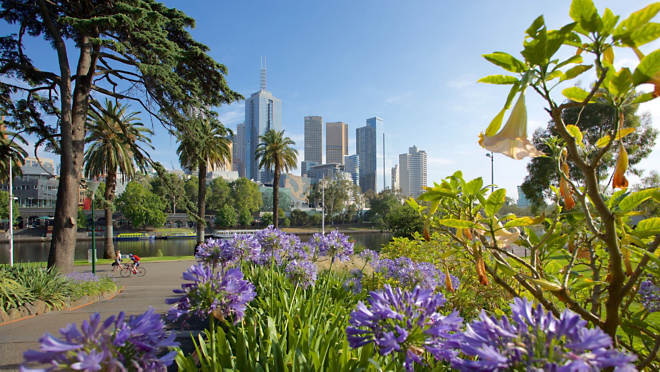 ;
5 NIGHTS FROM $1,995
Explore the rugged frontier town of Alice Springs, in the heart of the Outback
Watch the sun set at Ayers Rock, revered by the Aboriginal people as mystical Uluru
Enjoy the style and sophistication of Melbourne, Australia's second-largest city
Discover the diversity of the Outback's desert landscapes on an optional tour of the MacDonnell foothills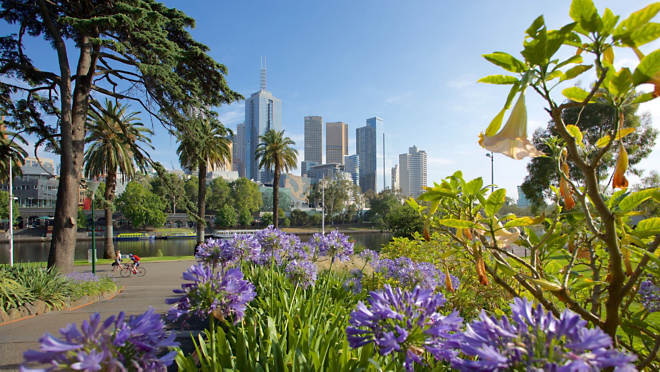 Not Applicable*
Not Applicable*
7 meals: 5 breakfasts, 1 lunch, and 1 dinner
Explore the rugged frontier town of Alice Springs, in the heart of the Outback
Watch the sun set at Ayers Rock, revered by the Aboriginal people as mystical Uluru
Enjoy the style and sophistication of Melbourne, Australia's second-largest city
Discover the diversity of the Outback's desert landscapes on an optional tour of the MacDonnell foothills
Compare Trips
Find the Adventure That's Right for You
Our Activity Level rating system ranks adventures on a scale of 1 to 5 to help you determine if a trip is right for you. See the descriptions below for more information about the physical requirements associated with each rating.
Travelers should be able to climb 25 stairs consecutively, plus walk at least 1-2 miles over some uneven surfaces without difficulty. Walks typically last at least 1-2 hours at a time. Altitude can range from zero to 5,000 feet.
Activity Level 2:
Moderately Easy
Travelers should be able to climb 40 stairs consecutively, plus walk at least 2-3 miles over some uneven surfaces without difficulty. Walks typically last for at least 2-3 hours at a time. Altitude can range from zero to 5,000 feet.
Activity Level 3:
Moderate
Travelers should be able to climb 60 stairs consecutively, plus walk at least 3 miles over some steep slopes and loose or uneven surfaces without difficulty. Walks typically last for 3 or more hours at a time. Altitude can range from 5,000 to 7,000 feet.
Activity Level 4:
Moderately Strenuous
Travelers should be able to climb 80 stairs consecutively, plus walk at least 4 miles over some steep slopes and loose or uneven surfaces without difficulty. Walks typically last for 4 or more hours at a time. Altitude can range from 7,000 to 9,000 feet.
Activity Level 5:
Strenuous
Travelers should be able to climb 100 or more stairs consecutively, plus walk at least 8 miles over some steep slopes and loose or uneven surfaces without difficulty. Walks typically last for 4 or more hours at a time. Altitude can range from 10,000 feet or more.
Hide Acivity Level
PRICE
including international airfare
HIGHLIGHTS & ACTIVITIES IN AUSTRALIA
*This information is not available for our trip extensions. You must reserve the main trip to participate on this extension.
**This information is not currently available for this trip. Please check back soon.
Recommended Viewing
Watch this video showcasing what makes this country so unforgettable
Smart Travels with Rudy Maxa: Sydney
Follow along with Emmy award-winning travel expert Rudy Maxa as he sails to scenic beaches, treks into the Blue Mountains, and samples the cuisine of Sydney.
24:40
Recommended Videos
Watch your fellow travelers' favorite films & videos
Smart Travels with Rudy Maxa: Queensland, Australia
Discover Queensland with Emmy award-winning travel expert Rudy Maxa, from the Sunshine Coast to the Great Barrier Reef.
Rivers and Bridges of New South Wales
Take a virtual tour of Australia's waterways in New South Wales—from the city skylines of Brisbane to pastoral riverbanks and quaint wooden bridges of the Australian countryside.
Inside Tracks
Witness one woman's revelatory journey across the Australian Outback—from Alice Springs to the Indian Ocean—alongside the photographer assigned to follow her.
Australia: Month-by-Month
There are pros and cons to visiting a destination during any time of the year. Find out what you can expect during your ideal travel time, from weather and climate, to holidays, festivals, and more.
Australia in January & February
While the Northern Hemisphere is experiencing cooler temperatures in January and February, Australia is enjoying warmer, summer weather in the Southern Hemisphere. Summer in Australia brings a lot of rainfall. While the rain provides a cool relief from the humidity that is common this time of year, it may hinder your Great Barrier Reef experience as a mix of rain, wind, and currents make it difficult to spot the underwater wildlife from your boat. Summer also marks the start of vacation season for most Aussies, so expect crowded beaches and coastal towns.
January and February are ideal months to visit Tasmania. Located farther south away from the equator, Tasmania's weather remains cooler with temperatures averaging around 70 degrees. Tasmania is replete with wineries and this is the perfect time to explore the idyllic vineyards and sample local varieties.
Holidays & Events
January 26: Australia Day is a national holiday that marks the anniversary of the arrival of the first British fleet in Australia in 1788
The Australian Open Tennis Tournament, one of four major international tennis tournaments, is typically held in January
Carnevale is an annual event that brings the masquerade ball festivities of the Carnevale di Venezia (Venice Carnival) to Australia
Late February: Dragon Boat Races spread to Australia in the 1970s when Hong Kong hosted an International Dragon Boat Festival that invited nations from all over the world to discover and participate in this sport. Hong Kong's effort to spread this tradition and important part of their culture was successful, and now these Dragon Boat Races take place all over the world, including in Australia
Must See
Australia Day celebrates the anniversary of the arrival of Captain Arthur Phillip and his British fleet in Australia. In 1788, Phillip was tasked with bringing convicts to this foreign land to build a work camp. The establishment of this settlement was difficult for Phillips, his men, and the convicts due to the climate and landscape of Australia, which the men had never experienced, but in the 19th century, an Australian settlement was finally completed.
Australia Day festivities are similar to how we celebrate fourth of July. Aussies enjoy barbecues, partake in beach-side activities, and by nightfall, fireworks illuminate the sky.
Australia in March & April
March and April welcome crisp, cool weather, which provides a nice relief from the hot summer heat and humidity. Take a pleasant stroll around one of Australia's major cities when the weather isn't too hot—from exploring Sydney's iconic cityscape to Adelaide's scenic coastal setting. Plus, as the rainy season winds down, Australia's flora flourishes. Maybe the best showcase of the lush landscape is during a visit to the Daintree Rainforest where more than 40 percent of Australia's plant species grow.
Holidays & Events
Moomba Festival is an annual celebration that brings Melbourne's community together for local entertainment. This festival has held as a strong tradition in Melbourne for more than 60 years
Canberra Day is celebrated annually on the second Monday in March. The day celebrates the founding of Canberra, the city's natural beauty, and its cultural history with sporting events, theater performances, and more
Must See
March is the beginning of Whale Shark season when these gentle giants flock to Ningaloo Marine Park—a reef that stretches more than 160 miles. You can witness the largest known fish and shark species in the world at Ningaloo as these creatures tend to swim closer to the water's surface. The end of March through June also provide the best wildlife viewing experiences at the Great Barrier Reef due to little to no rainfall.
Australia in May & June
A drastic cool down occurs as June 1 marks the first day of winter, which means the start of ski season in New South Wales and Victoria. Despite the cold weather, this is the best time of year to snorkel and dive over the Great Barrier Reef. Expect little to no rainfall and clear visibility, making it ideal for underwater wildlife viewing. Plus, June is the beginning of the migratory season for dwarf minke whales who travel in packs to the Great Barrier Reef in the winter.
Holidays & Events
Labor Day is typically reserved for barbecues, sporting events, and marches. The holiday is known locally as "Eight Hours Day" in Tasmania and is celebrated on the second Monday in March
May: The Captain Cook Festival celebrates James Cook's arrival on Bustard Bay in 1770
The Queen's Birthday is celebrated on the second Monday in June
Must See
June is one of the best times of year to view the Great Barrier Reef's wildlife. Clear conditions and little to no rain make it easier to witness turtles gliding and fish speeding over a kaleidoscope of colorful coral dotted with constellations of starfish and groups of sea urchins.
Australia in July & August
Winter is in full swing in July and August, and while it's too cold to enjoy the beach this time of year, fewer crowds, little precipitation, and low humidity make this the perfect time to explore Australia's major cities. Stroll through Melbourne's broad boulevards to discover the city's Victorian architecture and hop on Adelaide's vintage tram to explore the city's cultural gems. Plus, if you can't enjoy the beach, take advantage of ski season, which is at its peak in July and August.
Must See
While the cool weather outside evokes a sense of holiday cheer in July and August, why not celebrate the holidays. Aussies enjoy Christmas festivities in July in addition to December. Celebrations include the Yulefest in the Blue Mountains where locals and visitors alike come together to share in the spirit of the holidays. Enjoy lively parades, peruse holiday markets, and feast on holiday favorites like turkey, ham, mince pies, and plum pudding at this beloved annual event.
If you're interested in something a little more unique, the city of Darwin holds the Beer Can Regatta. Witness working vessels made almost entirely of beer cans at this annual event that has been held since 1974.
Australia in September & October
September and October bloom with pleasant springtime temperatures. The balmy weather is celebrated with several flower festivals—from the Cherry Blossom Festival in Cowra to tulip festivals that take place throughout the Southern Highlands. But, with better weather and vibrant flora comes larger crowds.
Spring in Australia is an exciting season. Horse racing is a big August sport as preliminary races are taking place through the season in preparation for the Melbourne Cup in November. In addition to the many horse races that take place, the National Rugby League's final games are this season. Rugby has long been a popular pastime in Australia. In the 1890s, Rugby was more of a hobby for working men, but as the sport garnered increased public interest it finally became an official sport under the New South Wales Rugby Football League at the beginning of the 20th century.
Holidays & Events
The Brisbane Festival is a three week celebration in September that showcases local art
September 1: Wattle Day; wattles are bright yellow flowers that are the national symbol of Australian patriotism
Must See
The Australian Football League also has its final match. Australian football is a mix of American football and soccer where players use their hands to handle the ball and their feet to pass the ball.
Another springtime attraction is the Royal Botanic Gardens, Australia's oldest botanic garden, where vibrant wildflowers are on display this season. The 158-acre garden is home to 8900 plant species and 36 pieces of art.
Australia in November & December
November and December are the last couple of months to enjoy mild temperatures before the weather heats up in January and February. Summer in Australia is not only hot and humid, but also means the beginning of monsoon season. Prepare for an abundance of rainfall and thunderstorms, but when the weather is clear, it's ideal for hiking and exploring the country's national parks where myriad wildlife can be seen in their natural habitats.
Holidays & Events
The Melbourne Cup horse race takes place annually on the first Tuesday in November
November 11: An observance of the end of World War I
December 25: Aussies tend to spend Christmas outdoors at the beach or hiking
December 26: Boxing Day
Must See
Australia is home to some of the world's most wondrous creatures and natural splendors, including turtle nesting. In November through December, turtles hatch their eggs at local beaches. After the sun sets, you can catch a glimpse of this beautiful event. Plus, the Sydney Hobart Yacht Race takes place in December. The race is a tradition that began in 1945 when 9 boats raced from Sydney to Hobart.
Average Monthly Temperatures
Australia Interactive Map
Click on map markers
below to view information about top Australia experiences
Click here to zoom in and out of this map
Great Barrier Reef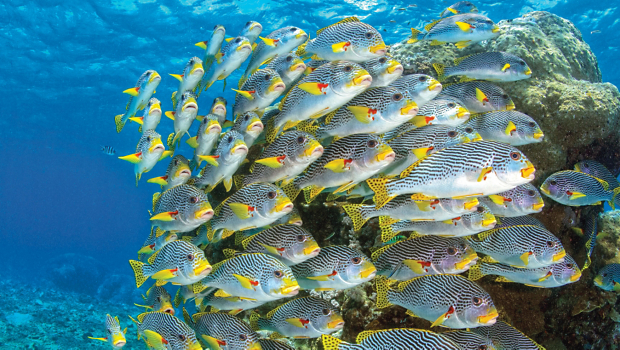 A UNESCO World Heritage Site, Australia's Great Barrier Reef is comprised of 2,900 individual reefs and 900 islands spanning more than 1,600 miles, making it the planet's largest single structure made by living organisms. Most of these reefs are roughly two million years old, though sections have been dated as far back as 18 million years. Scientists estimate that 80% of Australia's southern marine species are found nowhere else on Earth. This rich ecosystem off the coast of Queensland is home to countless species, including over 1,500 variety of fish that dart between brightly colored coral decorated with dainty sea anemone.
Experience the Great Barrier Reef with us on:
Melbourne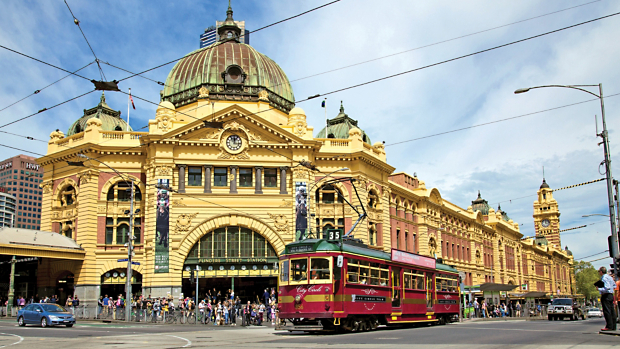 Melbourne, the state of Victoria's culturally rich capital, is known for its broad boulevards and Victorian architecture. The city's growth in the mid-19th century was fueled by immigrants seeking their fortunes during the Gold Rush. Highlights include St. Patrick's Cathedral; Melbourne's English landscaped Botanic Gardens which feature more than 10,000 plant species; and the historic Old Melbourne Gaol—where Australia's most famous bushranger Ned Kelly met his fate in 1880. Melbourne is also home to the largest open-air market in the southern hemisphere, the Queen Victoria Market. Built in 1878, the market was once known as a thriving center for black market goods, and currently boasts an excellent assortment of fresh produce, meats, and seafood, as well as clothing, jewelry, and handcrafts. Melbourne's trendy cafés, theaters, and lively music and art scene attract multicultural residents—which include more international students per capita than any other city in the world.
Experience Melbourne with us on:
Sydney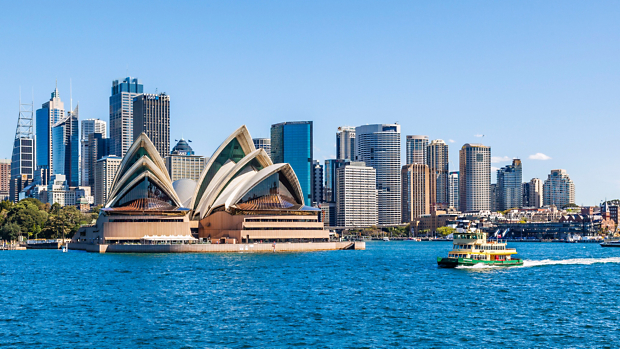 In 1788, English Captain Arthur Phillip anchored at the Sirius Botany Bay, bringing the first 800 convicts from Britain to form a new colony. From its inception, Sydney has been the capital of New South Wales, then a colony, and now the most populous of Australia's six states. Sydney offers countless opportunities for discovery: watching skilled surfers navigate the waves at Bondi Beach, stopping for some local beer-battered fish wrapped in newspaper at Darling Harbour, or visiting Taronga Zoo to marvel at native wildlife including koala, red kangaroo, wombat, and platypus. Stroll along Circular Quay, to witness the iconic Sydney Opera House designed by Danish architect J?rn Utzon. Completed in 1972, this unique structure made to look like white "sails" contrasts the deep blue of Sydney Harbor, located opposite Sydney Bridge, a symbolic arch that completes Sydney's skyline and The Rocks. Here, cobblestones and old-world charm will transport you back to the once rough-and-tumble haunt of sailors from around the world. The Rocks is now a vibrant patchwork of restaurants, market stalls, and elegant period architecture.
Experience Sydney with us on:
Ayers Rock
The Outback, home to flat, arid plains located in central Australia, is also called the Red Centre. This remote location is also considered the heart of Australia's original inhabitants, the Aboriginal people. The word "aborigine" means "from the beginning" in Latin. Indeed, Australia's tribal people, grouped together as aborigines, are among the oldest civilizations on Earth. They are the spiritual caretakers of iconic Ayers Rock—or Uluru—a natural phenomenon in the form of an awe-inspiring 1,142-foot-high natural sandstone monolith. The cave walls are adorned with colorful Aboriginal art depicting kangaroos, frogs, turtles, and the seasons. Ayers Rock, the centerpiece of Uluru-Kata Tjuta National Park, a UNESCO World Heritage Site, projects red-orange hues that glow, as if lit from within as the sun goes down and twilight sets in.
Experience Ayers Rock with us on:
Featured Reading
Immerse yourself in Australia with this selection of articles, recipes, and more
ARTICLE
From prison colony to paragon of democracy: Trace the progress of this island nation through history
RECIPE
Regulated by federal law and celebrated in an official nationwide competition, meat pies are serious business in Australia. Learn to prepare a basic version with this recipe.
RECIPE
This sweet Australian treat is worth the sticky fingers. Follow this recipe and try it for yourself.
The Rise and Emergence of Australia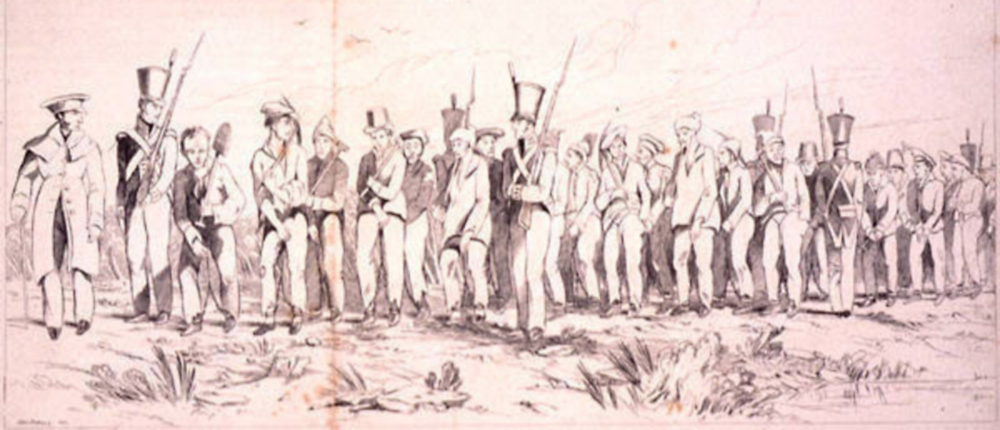 How Sydney's penal colony transformed into one of the freest countries in the world
by Pamela Schweppe, for Grand Circle
Thrust from an urban setting into an inhospitable wilderness, the convicts had to quickly overcome adversity just to stay alive.
Transport yourself to the London of the 1780s. Under the English Penal Code, known colloquially as the "Bloody Code," more than 200 crimes are punishable by death. Perhaps you are hungry and desperate and turn to pickpocketing to survive, or maybe you're a soldier guilty of insubordination. Which would you prefer: being put to death, or being transported to the underbelly of the world, where you will be left to fend for yourself? Or are these two options essentially the same thing? For many British convicts in the late 18th century, being exiled to Australia may have seemed like a death sentence—and for many, it was. At the time, London was the most populous city in Europe, having grown to 800,000 people. Crime was rampant—so much so that it was unwise to venture out after dark. What to do with all the criminals had become a major issue. Prisons were scarce and overcrowded, so transporting prisoners to remote lands had become the preferred alternative to execution. During the 17th and 18th centuries, roughly 60,000 prisoners were sent to North America. When Britain lost the Revolutionary War, however, they also lost a vast continent on which to deposit convicts, so a new site needed to be sourced.
It happened that, in 1768, Lieutenant James Cook had been commissioned by King George III to explore the South Seas. In 1770, his ship, the HMS Endeavor, became the first European vessel to touch the eastern shores of Australia. The place where the ship landed is now called Botany Bay. On August 18, 1786, a decision was made to develop a convict settlement at Botany Bay. On May 13, 1787, the First Fleet set sail from English shores. The fleet consisted of eleven ships: two naval ships, six convict ships, and three supply ships. On board were roughly 1,500 passengers, of whom around 800 were convicts. As it turned out, the voyage did not end at Botany Bay. On arrival on January 20, 1788, the leader of the expedition, Captain Arthur Phillip—soon to become Australia's first governor—determined that the unprotected waterfront plus a lack of green fields and fresh water made the site unsuitable. The fleet sailed on to Port Jackson—better known today as Sydney Harbor—where permanent anchor was made. The date was January 26, 1788.
A typical day for Australia's first European settlers
Conditions for those first European settlers were harsh. Scurvy and dysentery were rampant. Thrust from an urban setting into a wilderness, the convicts were responsible for finding a way to sustain themselves with food and shelter. Crops were sparse, and much of the livestock was lost. Still, Governor Phillip quickly arranged for the new settlers maximize their skills, whether farmers, shepherds, carpenters, nurses, or record keepers. Days were long and rigorous, and yet the convicts enjoyed a measure of freedom that would never have been afforded to them in London. Still, the mortality rate was high among the new settlers, who waited impatiently for more food to arrive with the Second Fleet. The next ship to arrive, however, was not what the colonists expected. Crimes against Australia's indigenous people, the Aborigines, reached an extreme when an eight-year-old Aboriginal girl was raped. In response, British Home Under-Secretary Evan Nepean decided that the behavior of the men of the new penal colony would be improved with the arrival of more women, so he ordered that 225 women from prisons throughout England be sent to Australia aboard the Lady Juliana.
The special plight of women
For some of the female prisoners aboard the Lady Juliana, transportation to the new penal colony was ironically freeing—a chance to cast aside social strictures and carve out a new life. For most women, however, being sentenced to Sydney Cove was tantamount to being forced into prostitution. Even though most of the women transported were guilty of a first offence (as opposed to multiple offences for most of the men)—and that usually a misdemeanor—they were assumed to be vulgar, low-class women with loose morals. Sexual abuse usually commenced even before arrival in Australia—aboard the very ships that took them there. Besides, with men assigned the tasks of farming, manufacturing, and construction, there were few jobs left over for women. There was little demand for servants, and factory jobs were scarce. With little incentive for men to marry, even the respectability of marriage was out of reach for most women, and for decades, those who did marry still could not escape the stigma of being considered a prostitute.
From penal colony to, simply, a colony
As the years went by, the focus of the settlement turned from punishment to colonization. By 1810, convicts were building roads, bridges, hospitals, and public buildings. Some were even gaining their freedom. Free citizens also began arriving in 1793, increasing the proportion of free citizens and adding to the demand for democratic change. Real reforms were enacted under Lieutenant-General Sir Richard Bourke, the ninth governor of New South Wales (1831-1837). Governor Bourke began waging a campaign against excessive punishment and inhumane treatment of the convicts, and also began granting rights to free convicts, including the right to own property. In 1850, transportation to Australia as a form of punishment was abolished. In all, approximately 165,000 convicts had been transported to Australia aboard 806 ships. The colony was now self-sustaining. Today, January 26 is celebrated as Australia Day, a national holiday comparable to America's Fourth of July. Is there irony in the fact that the U.S. observes its birthday on the signing of the Declaration of Independence, whereas the Aussies mark the anniversary of the arrival of prisoners? Perhaps not, when you consider that the brash and easygoing character we associate with the Australian people is founded on a band of convicts who had ample reason to cherish and pursue the very notion of freedom.
Recipe: Australian Meat Pies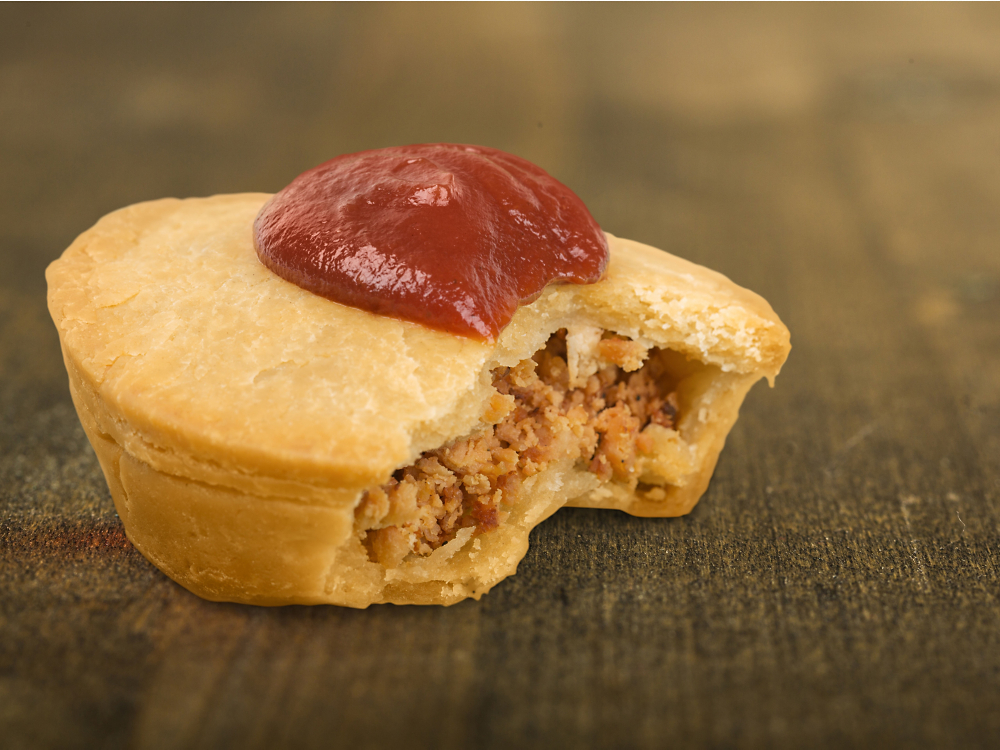 The meat pie is perhaps the most iconic Aussie snack food. While the concept of meat-filled pastry is a British invention that dates to medieval times, Australians have embraced the dish and made it their own, consuming "hand warmers" by the truckload at football, rugby, and cricket matches. Informal debates rage around whether the tomato sauce (what we call ketchup) should be chilled or at room temperature, and applied bite-by-bite or all at once.
In 1990, the gauntlet was officially thrown down at the first Great Aussie Meat Pie Competition—now an annual event. The goal, according to its website, is "to provide a national platform for quality pie improvement, product innovation, and skill enhancement." Media coverage after a win can launch a previously unknown producer into a million-dollar business.
While the old-fashioned minced beef and gravy will always reign supreme, federal law dictates that the "meat" in a pie can be beef, buffalo, camel, deer, hare, rabbit, sheep, or even kangaroo—and can include snouts, ears, tendons, and tongue. By law, every commercially sold pie must contain at least 25% meat—and skimping will not win a pie any awards in official competition: points are awarded for a higher meat-to-pastry ratio.
This recipe makes about 12 individual mini-pies in a standard-sized muffin tray—a perfect size for a snack or appetizer. You can scale it to fit any pie pan you'd like; just adjust the size of the crusts accordingly.
Ingredients
2 Tbsp olive oil
1 onion, diced
1 lb 80/20 ground beef
1 Tbsp cornstarch
3/4 cup beef stock
1/4 cup ketchup
2 tsp ground black pepper (or to taste)
2 Tbsp Worcestershire sauce
1/3 cup barbecue sauce
1 tsp Vegemite or Marmite (optional)
2 sheets frozen pie dough
1 sheet frozen puff pastry
Salt, to taste
1 egg, beaten
Ketchup, for serving
Preparation:
Heat oil in a large skillet over medium-high heat. Sauté onion until softened, then remove. Brown the ground beef in batches, taking care to not overcrowd the pan. Return all beef and onion to the pan, and season to taste with salt.
In a small bowl, mix cornstarch and a splash of stock to form a paste.
Add stock, ketchup, pepper, barbecue sauce, Worcestershire, and Vegemite/Marmite (if using) to the skillet.
Add cornstarch paste and stir to combine. Reduce heat to low and simmer until thickened, 10-15 minutes.
Preheat oven to 420 degrees Fahrenheit.
While beef mixture cools, cut the dough for the pie bases and lids. If using a muffin tin, you'll need 12 4-inch circles of pie dough and 12 2-inch circles of puff pastry. Use a small plate, tin can, or cup as a guide.
In a non-stick muffin tray, line each tin with a circle of pie dough, pressing down gently. Fill each with beef mixture, and top with puff pastry, "gluing" the top to the base with a bit of water on your finger.
Brush the tops with egg wash and bake for 25-30 minutes or until golden brown.
Serve as the Aussies do: topped with ketchup!
Servings: 12 mini-pies
Recipe: Sticky Date Pudding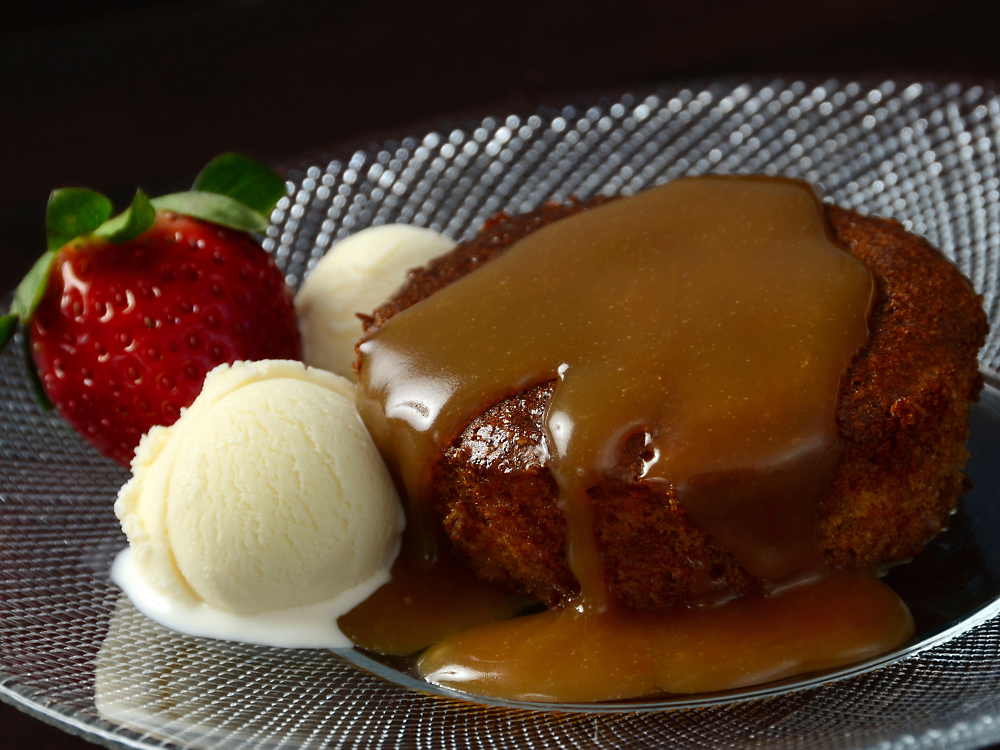 One of the many great things about traveling is getting to sample the foods that define and enrich each country—the traditional favorites that both locals and visitors alike devour with delight. A favorite dessert among the Aussies—and one that "mums" across this South Pacific country bake with love—is their sticky date pudding. Actually a super-moist cake, sticky date pudding is a warm and (as the name implies) sticky dessert that is deliciously drizzled with caramel sauce and often served with a dollop of ice cream or whipped cream on top. Follow along with the recipe below to make your own satisfying after-dinner treat.
Ingredients:
? cup pitted dates

1 cup hot water

? tsp. baking soda

2 Tbs. butter

? cup superfine sugar

2 eggs

? tsp. vanilla extract

? cup sifted self-raising flour

Sauce
2/3 cup brown sugar

? cup cream

2 Tbs. butter

? tsp. vanilla extract
Preparation:
1. Pre-heat oven to 350 degrees.


2. In a medium saucepan, cover pitted dates with hot water and bring to a boil. Reduce heat and simmer for three minutes.


3. Add baking soda to dates, then remove pan from heat and let cool.


4. In a mixing bowl, cream butter and sugar until light and fluffy. Blend in eggs one at a time.


5. Pour cooled dates into bowl with butter and sugar mixture, and add vanilla extract. Stir.


6. Gently fold in flour, stirring lightly.


7. Pour mixture into greased muffin tins to create individual puddings and bake for about 30 minutes. Cake is done when a toothpick inserted into the center comes out clean.


8. For the caramel sauce, combine brown sugar, cream, butter, and vanilla extract in a saucepan and bring to a boil. Reduce heat and simmer, stirring until smooth—about three minutes.


9. Pour a small amount of caramel sauce over baked puddings and return to oven until the sauce is bubbly—about two to three minutes.


10. Serve individual puddings with remaining caramel sauce drizzled over top. The pudding is great served hot with ice cream or whipped cream, but can also be served cold.


Servings: 6