The Leader in Enriching Cultural Experiences since 1958
You're receiving this message because your web browser
is no longer supported
We recommend upgrading your browser—simply click the button below and follow the instructions that will appear. Updating will allow you to accept Terms and Conditions, make online payments, read our itineraries, and view Dates and Prices.
To get the best experience on our website, please consider using:
Safari (for Mac or iPad Devices)
Update Browser

argentina
Get the Details On Our Argentina Trip
Find out more about the trip, including activity level, pricing, traveler excellence rating, included meals, and more
Please call for pricing
Land Tour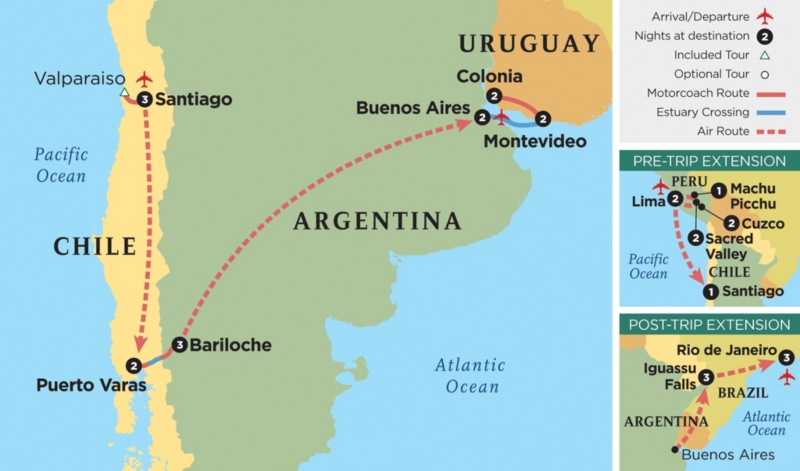 Chile: Santiago, Puerto Varas, Patagonian Lakes | Argentina: Bariloche, Buenos Aires | Uruguay: Montevideo, Colonia del Sacramento
28 meals: 14 breakfasts, 7 lunches, and 7 dinners (including 1 Home-Hosted Dinner)
Ride the chairlift to the top of Campanario Hill overlooking beautiful Bariloche
Discover the lively city of Buenos Aires, from the ornate alleys of Recoleta cemetery to the colorful street art of La Boca
Practice the sensual steps of the Tango during a lesson with a pair of master dancers
Get a taste of life on the Patagonian steppes during a visit to a working estancia (cattle ranch)
Trip Details
Find the Adventure That's Right for You
Our Activity Level rating system ranks adventures on a scale of 1 to 5 to help you determine if a trip is right for you. See the descriptions below for more information about the physical requirements associated with each rating.
Travelers should be able to climb 25 stairs consecutively, plus walk at least 1-2 miles over some uneven surfaces without difficulty. Walks typically last at least 1-2 hours at a time. Altitude can range from zero to 5,000 feet.
Activity Level 2:
Moderately Easy
Travelers should be able to climb 40 stairs consecutively, plus walk at least 2-3 miles over some uneven surfaces without difficulty. Walks typically last for at least 2-3 hours at a time. Altitude can range from zero to 5,000 feet.
Activity Level 3:
Moderate
Travelers should be able to climb 60 stairs consecutively, plus walk at least 3 miles over some steep slopes and loose or uneven surfaces without difficulty. Walks typically last for 3 or more hours at a time. Altitude can range from 5,000 to 7,000 feet.
Activity Level 4:
Moderately Strenuous
Travelers should be able to climb 80 stairs consecutively, plus walk at least 4 miles over some steep slopes and loose or uneven surfaces without difficulty. Walks typically last for 4 or more hours at a time. Altitude can range from 7,000 to 9,000 feet.
Activity Level 5:
Strenuous
Travelers should be able to climb 100 or more stairs consecutively, plus walk at least 8 miles over some steep slopes and loose or uneven surfaces without difficulty. Walks typically last for 4 or more hours at a time. Altitude can range from 10,000 feet or more.
Hide Acivity Level
PRICE
including international airfare
HIGHLIGHTS & ACTIVITIES IN ARGENTINA
*This information is not available for our trip extensions. You must reserve the main trip to participate on this extension.
**This information is not currently available for this trip. Please check back soon.
Recommended Viewing
Watch this video showcasing what makes this country so unforgettable
ReelEarth: Chile's Dock of Souls
On the remote island of Chiloé, a local artist's work brings Chilean myths to life—and young people back to the island.
09:00
Recommended Videos
Watch your fellow travelers' favorite films & videos
Joan's Experience in Patagonia
Follow along on solo traveler Joan's adventure, as she treks through Patagonia's windswept lands and witnesses mammoth glaciers.
Brenda and Leona's Patagonia Trip Experience
Hear about how Brenda and Leona, two long-time travel companions, reveled in their discoveries in Patagonia as they watched a condor soar through the sky, rode horses along a lake in Torres del Paine, and hiked "spectacular" landscapes.
Patagonia with Trip Experience Leader Marcela Colombini
Watch this slideshow from local Trip Experience Leader Marcela, who has been with O.A.T. since 2012, to see all that Patagonia has to offer.
Travelogue: San Carlos De Bariloche, Argentina 1968
Discover San Carlos De Bariloche through the eyes of an amateur filmmaker in 1968 as he captures the people and natural serenity of Argentina's hinterland.
Argentina: Month-by-Month
There are pros and cons to visiting a destination during any time of the year. Find out what you can expect during your ideal travel time, from weather and climate, to holidays, festivals, and more.
Argentina in December-March
The Southern Hemisphere's summer is the high season in Argentina, when warmer temperatures and longer daylight hours beckon visitors to the country's sweeping steppes and rugged coasts. The weather is comfortable at night, with temperatures lingering in the 60s, but it's not unusual for daytime temperatures to reach the sweltering triple digits. This is also when locals have school breaks and take their annual vacations, so you can expect to find plentiful crowds throughout the country—it's wise to book hotels several months in advance to ensure availability.
But with the high season's crowds come high spirits, too: The holiday season lends a jubilant air to this predominantly Catholic country, and a variety of free events and festivals add to the celebrations. January and February are some of the best (and warmest) times of year to visit notoriously chilly Patagonia, when nature is in bloom and emerald lakes dazzle beneath cerulean skies.
Holidays & Events
December 25: Christmas
January 1: New Year's Day
February: Argentina's Carnival celebrations may lack the international recognition of its northern neighbor Brazil's, but as a Catholic nation, Argentina takes its Carnival festivities seriously. The biggest Carnival in the country is held in Gualeguayachú, but in towns and cities throughout Argentina, Carnival is a colorful occasion celebrated with lively parades and costumed performers in anticipation of the Lenten season.
Mid-March: Held annually during the second week of March, the Fiesta Nacional del Ternero (National Festival of the Calf) is a meat lover's dream. Celebrating Argentina's proud tradition of gaucho culture, the festival features rodeo competitions, folk songs, traditional dancing—and, of course, a massive open-air beef roast.
Late February: During Buenos Aires Fashion Week (BAFWeek), models and fashionistas descend upon Buenos Aires to strut their stuff and flaunt the latest styles by leading Argentine designers. BAFWeek showcases both high-profile fashion houses and emerging designers, and adds an element of haute couture to the city's already elegant people-watching.
Must See
Wine lovers will rejoice in a visit to Mendoza—the heart of Argentina's wine country—during February and March, when the country's famed Malbecs and other red wines are harvested. Argentina's summer months are also a wonderful time to visit national parks such as Torres del Paine and Alerces, when temperatures are at their highest of the year and the parks' lakes and hiking trails are most accessible.
Watch this film to discover more about Argentina
Food and Fun in Buenos Aires
Uncover some of Buenos Aires' favorite cafés, taverns, and restaurants with expatriates who now call the city home.
Argentina in April-June
April, May, and June mark Argentina's autumn, and usher in a splendid fall foliage that drapes the country in seasonal hues. Like the crowds, the humidity of summer disappears during these months, replaced with pleasant daytime temperatures in the 60s and 70s and cool, crisp evenings.
This is a wonderful time of year to explore Argentina's stunning nature: Take in the rusty reds and fiery oranges of fall on gloriously empty Andean hiking trails, and enjoy a variety of local festivals. Plus, the shoulder season brings below-average room rates, meaning your dollar will stretch further.
Must See
The Andes—always a must-see—simply come alive during these months with the vibrant fall foliage.
Watch this film to discover more about Argentina
Food and Fun in Buenos Aires
Uncover some of Buenos Aires' favorite cafés, taverns, and restaurants with expatriates who now call the city home.
Average Monthly Temperatures
Argentina Interactive Map
Click on map markers
below to view information about top Argentina experiences
Click here to zoom in and out of this map
Bariloche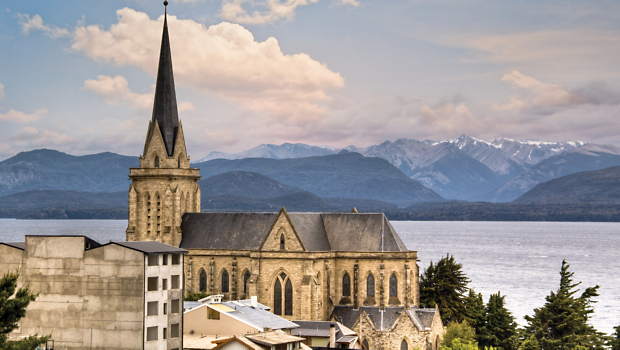 Bariloche is a sweet taste of the Alps tucked away into the foothills of the Andes. Nicknamed "Little Switzerland," the relatively young city—founded just over 100 years ago in 1902 by primarily German-speaking immigrants—exhibits a clear European influence in its wood-and-stone architecture and cobblestone streets.
The city's settlers brought their chocolatiering secrets with them, too. Bariloche is the largest chocolate producer in Argentina, and candied delicacies can be found in shops throughout the city, concentrated especially on Mitre Avenue, known to Argentineans as "The Avenue of Chocolate Dreams."
Beneath Bariloche's gentle façade, however, hides a darker past; at the end of World War II, some Nazis treated the city as a hiding place in their flight from justice. In the decades following Germany's surrender, stories and controversies of exposed war criminals have arisen over time.
Outside of the city limits, outdoor enthusiasts will find plenty to do in this region, including skiing, hiking, horseback riding, and whitewater rafting. Travelers can also ride a chairlift to the summit of nearby Campanario Hill for a breathtaking view of the panorama below. Bariloche is surrounded by some of Argentina's most beautiful scenery, including Nahuel Huapi Lake, Gutierrez Lake, and Moreno Lake, as well as the Andean peaks of Tronador, Cerro Catedral, and Cerro Lopez.
Explore Bariloche with us on:
Buenos Aires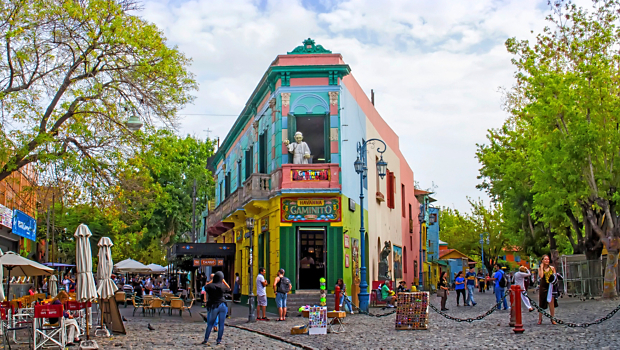 Argentina's capital city retains a distinctly European flavor; some call it the "Paris of the South." Italian- and French-style palatial architecture adorns the well-planned streets, radiating outward from the Plaza de Mayo, which commemorates the fight for Argentinean independence, and houses the seat of the current government. Travelers from around the world flock to Buenos Aires to visit iconic locations like the colorful and bohemian La Boca district, and Recoleta Cemetery, a baroque city of the dead where the famous first lady Eva Peron and other revered Argentinians have been laid to rest.
Buenos Aires' people—nicknamed porteños, or "people of the port"—exhibit European sensibilities, too. While the city is no stranger to hustle and bustle, its citizens know how to slow down and take pleasure in the simple things. By day, you'll find the city's parks and cafes overflowing with locals and visitors bonding over mate, the famous and invigorating herbal brew which keeps Argentina moving. In Argentina, mate is more than just a drink; it's a key part of social life, and if you haven't had it here, served in a traditional gourd and sipped through a silver straw, you haven't really had it at all.
At night, porteños take their time to get ready—similar to Spain, restaurants don't start to fill until 9pm, and the parties don't get into full swing until well after midnight—but once they get going, they don't stop. On any given night in Buenos Aires you'll find dozens of milongas, or dance parties, where tango reigns supreme well into the dawn.
The easy pace of life in Buenos Aires belies a deeply rooted pride in their nation. This passion affects not just art, music, dance, and cuisine, but civic duty, as well. By law, every Argentinean over the age of 18 is required to vote in elections.
Explore Buenos Aires with us on:
Featured Reading
Immerse yourself in Argentina with this selection of articles, recipes, and more
RECIPE
Learn to transform a cheap cut of beef into a rich meal with this recipe for steak matambre (stuffed flank steak).
ARTICLE
Read about the life and legacy of Argentina's most famous first lady.
ARTICLE
Take a look behind the landscapes to learn about the personalities that gave Bariloche its colorful character.
Recipe: Argentinian Steak Matambre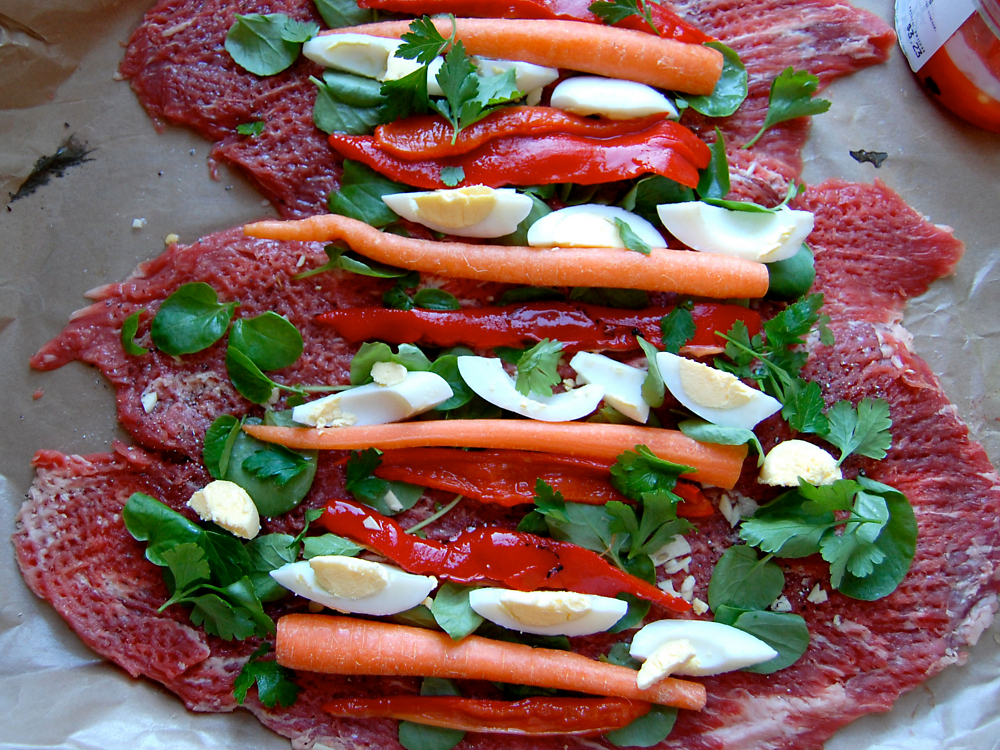 When the Spanish introduced cattle to Argentina in the 16th century, they laid the foundation for a nation's cultural identity. Cows thrived on the Argentinian pampas, and beef eventually became a successful export to the U.S. and Europe. From gauchos on horseback to grand estancia ranch houses—and, of course, the gluttonous asado barbecue—some of the best-known symbols of Argentine culture (tango notwithstanding) evolved around the business of beef.
Today, grains and soybeans have dethroned beef as Argentina's chief exports, and the majority of meat is consumed domestically—which still translates to a lot of beef. In 2016, only Uruguay topped Argentina in overall beef consumption per capita, with both countries exceeding 120 pounds. (The U.S. ranked fourth, at nearly 80 pounds.) The highest quality steaks need little more than salt, pepper, and olive oil to shine—though a dollop of vibrant chimichurri sauce certainly doesn't hurt. But true beef aficionados know how to use the whole cow—including tougher cuts like matambre, which comes from the bottom of the ribs. With a bit of finesse, even these muscly bits can yield culinary magic—as in this recipe that bears the same name.
The word matambre is a portmanteau of the Spanish words for "kill" (matar) and "hunger" (hambre)—and that's exactly what this recipe will do, no matter how you slice it. As part of a typical asado, this dish is actually served as an appetizer; the thin cut of steak cooks so quickly, impatient guests can enjoy it while waiting for thicker slabs of meat to come off the grill. But we think the beautiful presentation—not to mention the labor involved—deserves main course status. The actual matambre cut is nearly impossible to find in the U.S., but flank steak makes a great substitute.
Ingredients:
For the chimichurri:
1 large garlic clove
1/2 tsp salt
1 1/2 cups fresh cilantro
1 1/2 cups fresh flat-leaf parsley
1/4 cup distilled white vinegar
1/3 cup olive oil
1/4 teaspoon cayenne
For the steak:
1 flank steak, about 1 1/2-2 lbs, butterflied
Juice of 1 lime
2 tsp dried oregano
1 tsp salt
Freshly ground black pepper
2 cloves garlic, minced
1/2 red pepper flakes
1 cup spinach leaves
1 bell pepper, sliced
1 carrot, thinly vertically sliced
2 hard-boiled eggs, quartered
1/2 cup green olives, sliced
Salt and pepper
Olive oil
Preparation:
To prepare the chimichurri, add garlic to a food processor with the motor running and finely chop. Add salt, cilantro, parsley, vinegar, oil, and cayenne, then pulse until herbs are finely chopped. Set aside.
The easiest way to butterfly a flank steak is to ask your butcher to do it for you. But if you're inclined to DIY: Lay the steak flat on a cutting board, and using a sharp knife, carefully slice it in half horizontally almost all the way through, following the grain of the meat fibers. Open it up like a book.
Using a meat mallet, pound the steak to flatten a bit further and even out the thickness.
Sprinkle the lime juice, oregano, salt, pepper, garlic, and red pepper flakes evenly over the surface of the meat.
Spread the spinach over the surface of the meat, leaving a one-inch border on all sides.
Arrange the peppers in three parallel rows about two inches apart. Make sure the vegetables follow the grain of the meat, so that when you roll and eventually slice it, you'll be cutting against the grain.
Place the eggs and olives in between the pepper rows.
Carefully roll the meat up over the filling as tightly as you can, jellyroll-style. Secure with butcher's twine. Slather the outside of the roll with olive oil and season liberally with salt and pepper.
Heat your grill to 400 degrees.
Grill steak for 5 minutes per side, for a total of 20 minutes.
If you prefer your steak well done, cook for about 20 minutes longer in a 400 degree oven.
Allow steak to rest for 15 minutes before slicing. Serve with chimichurri.
Servings: 4-6
Evita: From the Plains to the President's House
Read about the life and legacy of Argentina's most famous first lady
by Julia Hudson
Memories of the rabble-rousing cries and steely ambition of Argentina's most storied public figure remain as vibrant today as ever—Eva Peron, affectionately known as "Evita," led an unapologetic life devoted to Argentina's women and working poor. Her work led to suffrage, labor unions, and medical improvements, and a public voice that many had never before known.
Early life
Maria Eva Duarte was born in 1919 to a poor family in Los Toldos, a small city in the Argentine plains. The death of her father exacerbated their poverty; her siblings all had to work supporting the family, while her mother cooked, sewed, and took on tenants. Eva, however, dreamed of a sparkling life in the theater, and so took off for Buenos Aires when she was only 15 years old.
Big city life agreed with her, and after a few years of acting, modeling, and earning enough money to get by, she met Colonel Juan Peron at a fundraiser in 1944. It was a meeting that today seems almost destined—the firecracker from las pampas (the plains) who had worked up the ladder to make a name for herself, and the military man who supported women's advancement. In fact, just a few months after meeting Eva, Juan used his role as Secretary of Labour to found the Women's Division of Work and Assistance, which granted equal rights in the workplace to women as to men.
Rise to power
Eva and Juan were married in 1945; in 1946, Juan was elected to the presidency, with his wife by his side. This was a first for Argentinean politics, because women did not usually campaign with their husbands or partake much in political life; however, the gregarious and well-spoken Eva did much for her causes. The Fundacion Eva Peron founded one of the major nursing schools of the time, the Escuela de Enfermeria, making nursing a viable, educated profession for women.
It seems, in many ways, the ambitions of the Perons were reflective of those of Argentina as a whole. The exploited labor class, or "shirtless ones" (los descamisados) were beginning to agitate for better treatment under the law; the iconic images of beloved Eva crying out for equality from the presidential balcony came from the many formal addresses she gave on the subject. Furthermore, Eva followed through, using her influence to deliver not only women's suffrage in 1947, but also increased minimum wage and government housing for low-income workers.
The political pull of the Perons coalesced into a party, Peronism. Comprised of three "flags," or pillars—social justice, economic independence, and political sovereignty—and neither capitalist nor communist, it wanted the government to liaise between management and workers. Some took issue with its populism (and indeed the lavish lifestyle of the first couple), as well as the harsh methods employed by the party. Advocating immediate action and to "answer violence with violence," Eva and the Peronists posed a threat to social stability.
Cementing a legacy
Eva wanted women to come together under one banner to advocate, so after the passing of women's suffrage she organized a new branch, the Peronista Women's Party (Partido Peronista Feminino, or PPF). Elected as its leader, she immediately began to build neighborhood centers, or units (unidades basicas) to provide local social services, legal and medical assistance, and public health work.
The presence of the PPF was quickly felt. The party helped twice as many women gain admittance to university as before, and in the elections of 1951, the first election where women could run, 24 members of the party were elected to the lower house of Argentina's congress.
When Eva passed away of uterine cancer in 1952, many Argentines openly wept and mourned the loss of their vibrant and trailblazing leader. However, some contend that Argentina was not improved during her life; rather, the government's muffling of student activism and tight control of opposition parties hindered the movement toward democracy. As for Juan Peron, he was reelected twice more before a military coup banned the party and sent him into exile.
All political legacies are complicated; all leave frustrated opponents behind. What Eva Peron asserted was not that she or any of the people she represented were perfect, but that they should be visible. And with her echoing voice, pumping fists, and tireless enthusiasm for the prospects of Argentina's poor and downtrodden, "Evita" provides that visibility to this day.
Read about the life and legacy of Argentina's most famous first lady
The Dramatic Characters of Bariloche
Take a look behind the landscapes to learn about the personalities that gave Bariloche its colorful character
by David Valdes Greenwood, for Grand Circle
Argentina's beloved outdoor playground, San Carlos de Bariloche, is known for the beauty of its mountains and lakes. But for a richer understanding of the city, it's worth taking a cue from the word "Bariloche," a version of the indigenous term Vuriloche, which literally means "the people behind." To fully appreciate the city, it helps to meet some of the most fascinating "people behind" its colorful 117-year history.
Sweet beginnings
The story begins simply enough: with one determined character. Carlos Wiederhold, a German immigrant living in Chile, wanted to live in the Andes, and settled on the current site of Bariloche in 1895. He opened a general store named not for its contents but himself: La Alemena (the German). This small wooden outpost, which sold everything from sundries to penny candy, soon attracted his fellow Germans and Austrians, as well as a few Italians and Slovenians. With this mix as its founding population, perhaps it's no surprise that the city modeled much of its architecture after Europe, designing itself to look like a fairy-tale village.
But Weiderhold was not the only European named Carlos to define the city. In 1928, Swiss candymaker Carlos Tribelhorn (often misspelled as Triberholn) opened a chocolate shop in the city center. The handmade confections combined traditional Swiss chocolate-making skills with the use of regional fruit. The unassuming white-stone shop, a wooden balcony its only flourish, drew crowds of eager locals, and soon other master chocolatiers opened storefronts. To this day, Bariloche is synonymous with chocolate for many Argentines.
The dark side
Not everyone came to Bariloche with aims of contributing to local life. One notorious duo famously used Bariloche as a way station on their criminal exploits. In the 1880s. Robert Parker and Harry Longabaugh, better known as Butch Cassidy and the Sundance Kid, fled to Argentina in hopes of ditching the well-known Pinkerton Detective Agency, which had been pursuing the bank robbers since their Wild Bunch days. After several quiet years ranching in their adopted country, the pair returned to their bank-robbing ways, which revealed their location to Pinkerton detectives, who had never stopped trailing them.
With their cover blown, the duo set off for Bariloche, traversing Lake Nahuel Huapi safely into Chile. But Argentina still beckoned them, and when the heat died down, they returned. This time, their idyll was shorter: Within the year, the pair robbed yet another bank, and once again, Bariloche was their escape hatch. They hiked from the outskirts of the city into the mountains, leaving the frustrated Pinkerton detectives in their wake. The robbers never made it back to Bariloche, though historians still debate whether they died in a Bolivian shootout or retired to life as ranchers elsewhere.
The same remoteness that made the city so attractive to the famous outlaws made it an ideal haven for criminals who occupied a much darker place in history a half-century later. After World War II, Argentina became a destination for Nazis trying to escape prosecution. While easy-to-recognize figures like Adolph Eichmann passed through Bariloche briefly, others were able to fly under the radar and settle in. One SS captain, for instance, lived here 50 years—eventually sitting on the board of a local school—before his discovery and arrest. Bariloche's most notorious author, Abel Basti, even claims that Hitler and mistress Eva Braun did not die in Germany, but in fact lived out the rest of their lives here. Though such a claim is easily disputed, it seems fitting that Bariloche's dramatic landscapes might give rise to such wild speculations.
Visions of grandeur
Wild ideas played a central role in a scheme intended to put Argentina on the scientific map. In 1948. President Juan Peron chose Bariloche's Huemul Island to be the location of the world's first fusion reactor. The top-secret project cost $300 million—and failed. The official reason for the flop was that the advanced technology needed was simply not available in such a remote locale at that time. The reason given by most locals was that Ronald Richter, the plant overseer, was mentally unhinged. With his wild mop of hair and a penchant for wearing spy-style raincoats at all times, the man who claimed he could deliver nuclear energy in milk bottles was taken seriously by few aside from Peron. The president eventually admitted his error, shutting down the project in embarrassment, while leaving behind an empty complex, the remnants of which can still be visited today.
A man who had no such problem finishing what he started was Alejandro Bustillo, whose architecture anchors the city. One of the nation's most acclaimed painters and architects, Bustillo designed the luxury Llao Llao Hotel, a grand all-wood structure—which burnt to the ground nearly as soon as it was finished. Undeterred, he redesigned the hotel to mimic its original glory but in concrete and stone, and the sweeping, red-roofed result became a town icon. (It remains a member of The Leading Hotels of the World consortium.) Among his other edifices here, the Cathedral of San Carlos de Bariloche is most striking, a castle-like Neo-Gothic church that furthers the impression of a European idyll.
Take a look behind the landscapes to learn about the personalities that gave Bariloche its colorful character